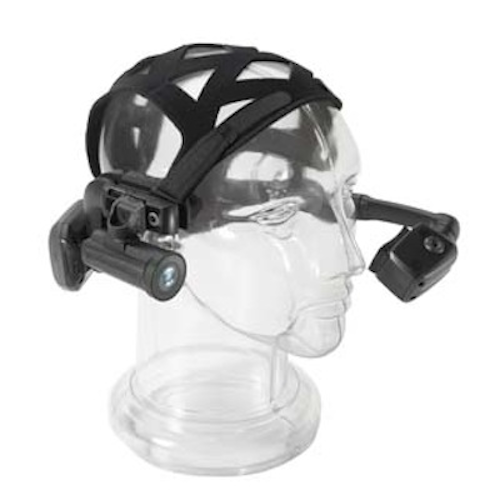 The AUSA Conference featured Motorola Solutions Inc. (NYSE: MSI), a provider of mission-critical communication solutions and services. Unveiled was Motorola Solutions Inc.'s HC1 headset computer, the first in a new class of Motorola hands-free enterprise mobile computers that leverages advanced voice recognition, head gestures and video streaming to navigate applications that access and view business-critical documents and schematics. The HC1 can be used in harsh environments and most remote locations, where access to complex graphical data or text is needed and using a laptop or handheld device is impractical without obstructing vision.

KEY FACTS
Designed for field services, utilities, telecommunications and more, Motorola Solutions Inc.'s HC1 can be used for maintenance, repair, operations/overhaul (MRO) and training and simulation applications that improve inspection time and accuracy, reduce labor rates and increase safety.

Field technicians responsible for the maintenance and repair of complex machines and vehicles can receive expert assistance almost instantly on-site. Military defense forces, special public safety teams and commercial customers can practice simulated events and crisis scenarios and also perform live training with real-time trainer feedback and mission- or business-critical guidance. Construction managers, field engineers and architects can access schematics, building plans and maps, and annotate photos or video clips to provide proof of condition or document changes at the point of activity.

The HC1 headset computer provides hands-free mobile computing leveraging Kopin Corporation's optical micro-display technology platform—providing the user with a view of a 15-inch laptop-size screen.

In addition to local document access, the HC1, when connected via local Wi-Fi or a Bluetooth connection to a Motorola MC75A, MC65, ES400 smartphone or mobile hotspot, allows the push and pull of data between the headset computer and remote networks. By pairing the HC1 with a WAN device connected to a remote network, mobile workers can receive mobile gateway access to place voice calls and use GPS data.

The remote connectivity of the HC1 combined with the use of an optional camera accessory that can transmit pictures or videos enables collaboration between a remote expert and a field-based associate on the job site to resolve issues quickly and efficiently—reducing travel costs and downtime, while improving worker productivity.

Motorola's HC1 headset computer is available with the Service from the Start with Comprehensive Coverage program, providing coverage for normal wear and tear and accidental damage to internal and external components, significantly reducing unforeseen repair expenses.
For more information about Motorola Solutions Inc. or other mobile computes, click here to go to Utility Products' Buyers Guide.