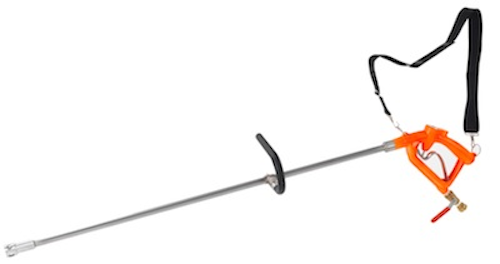 Chicopee, Mass.—Guardair Corporation, a manufacturer of high-powered safety air guns, announces the HydroForce air gun. The HydroForce combines the power of compressed air with municipal utility water to produce a turbulent air/water jet stream, (14lbs. of thrust), to provide superior cleaning power for the toughest cleaning jobs.

The Hydroforce has no power package or pressure unit and does not require electricity or gasoline. Its features include:
• Lightweight and fully portable
• Rugged all metal construction
• Ergonomic, one trigger operation
• Made in USA
• Hot or cold water capable
• No duty cycle limitations
• Low maintenance
• OSHA Compliant
• 3/4" FNPT
• Available in multiple lengths, 24" 36", and 48"

The air gun also features a water shutoff valve for optional use of compressed air only for drying, an adjustable auxiliary handle. To operate simply connect a garden hose to the water inlet and compressed air line hose to the air inlet. All Guardair Corporation products are available through a nationwide and international network of industrial distributors and dealers.

For more information about Guardair or other air guns, click here to go go to Utility Products' Buyers Guide.