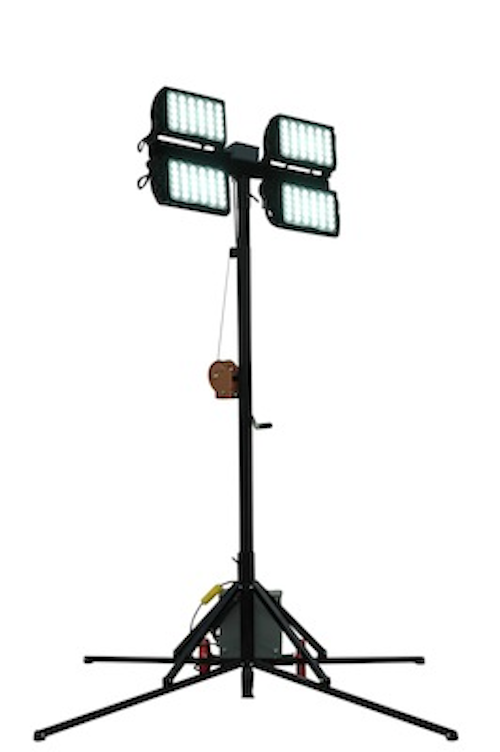 Kemp, Texas—Larson Electronics' Magnalight.com has released a portable light tower system that provides easy deployment and transport without sacrificing light output. Designed with LED light bar technology for high output and a tower assembly constructed from aluminum for light weight, the WALTP-CU12-4X150W-LED Quadpod Light Tower can be deployed by a single person. Although smaller and lighter in size than comparable HID tower systems, this LED tower provides over 59,000 lumens of light output.

The Magnalight WALTP-CU12-4X150W-LED Quadpod Light Tower is a portable LED light tower system that provides all the power of a larger HID tower in a smaller package. This portable LED light tower is fitted with four of Magnalights' extreme duty LED light bars to produce 59,610 lumens of light output, making this tower capable of effectively illuminating large scale work areas. These LED light bars LED light bars feature high output Cree LEDs, extruded aluminum housings, unbreakable polycarbonate lenses, and are IP 68 rated waterproof. By using their LED fixtures, Magnalight has managed to improve efficiency, reduce weight and increase durability, allowing them to construct a tower with enough power to illuminate large areas, yet small enough for one person to deploy and manage.

The tower is an adjustable unit that can be extended from 7 feet to 14 feet in height and locked into place with simple yet effective T handle locks. Extending the tower to its full height is accomplished using an included hand crank, and an integral braking system built into the crank assembly provides safer deployment and reduces the risk of accidental collapse. The light tower is constructed of heavy gauge aluminum, providing excellent strength and rigidity while also reducing the overall weight of the entire assembly.

Magnalight has also included a set of 10 inch solid wheels that allow operators to simply roll the entire tower from one position to another once setup. An included transformer box built into the base allows the tower to be operated from voltages of 120 to 277 VAC, making these towers able to run from commonplace 120 VAC as well as higher industrial voltages. These portable light towers can be easily collapsed, disassembled and transported and provide an ideal lighting solution for industrial, commercial, emergency response, and military applications where harsh and demanding environments require a dependable, durable lighting system.

"This portable LED light tower produces a comparable light output to that of four 400 watt metal halide fixtures, while only drawing 5 amps on a 120 volt system," said Robert Bresnahan of Larson Electronics Magnalight.com. "By utilizing LED lights, this light tower consumes less power, produces less heat, weighs less, and has a longer lamp life than that of gas burning fixtures."

For more information about Larson Electronics or other lighting solutions, click here to go to Utility Products' Buyers Guide.