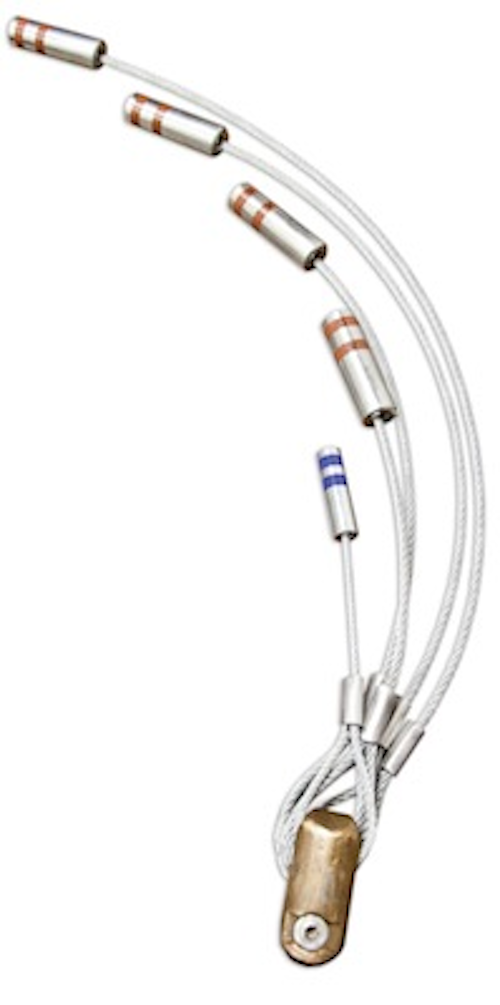 Cerro Wire LLC, a manufacturer of copper electrical building wire and cable, announces that it will highlight its complete range of wire equipped with RectorSeal single-use steel pulling grips at the National Electrical Contractors Association Convention (NECA), September 29th - October 2nd 2012 in Las Vegas. Cerro Wire will also be displaying its True Sequential Footage, a sequentially printed cable reel that provides accurate wire length with each cut and its new multi-conductor wire barrel packing system.

Cerro Wire's complete range of wire equipped with RectorSeal single-use steel pulling grips is a reliable single-use wire pulling tool that reduces set up time and lets you pull up to four times more wire per day. Pulling grips eliminate waste, saving time and money, especially on larger commercial jobs.

Made with an extremely durable steel body, the pulling grips are far less likely to fail during an installation than a pulling grip made of aluminum. They also have a shorter body length, which allows them to corner better, further reducing failure risk compared to other pulling grips.

Rated for use on THHN and XHHN wire, these steel pulling grips reduce total set up time for a 4-wire pull to less than five minutes. Eighteen sizes are available, ranging from 1 AWG to 750 MCM.

Also on display is Cerro Wire's True Sequential Footage that prevents the need to carry excess cable inventory, providing precision length, accurate footage, and cost control. True Sequential Footage uses a footage mark to document remaining wire, beginning with zero at the bottom of the reel and ending with the finished length at the top. The accurate footage mark allows for quick identification of the re-order point, guaranteeing the full purchased wire length and reducing random lengths. This better controls end-of-reel scrap.

The need to carry excess inventory is reduced with the precision cutting allowed by True Sequential Footage. Wire normally lost on each cut made with less accurate cutting systems (3 to 8 percent) is saved when True Sequential Footage's precision footage marking system is used. True Sequential Footage is available with both THHN-2 and XHHW-2.

For more information about Cerro Wire or other pulling grips, click here to go to Utility Products' Buyers Guide.