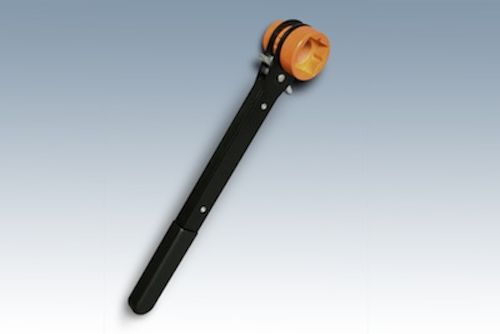 West Boylston, Mass.—Utility, construction, and maintenance workers who need to tighten nuts on transmission towers will benefit from using Lowell Corporation's new 100T Series Triple Square Transmission Tower Wrenches in several ways.

Each rugged wrench is really three wrenches-in-one to give workers greater flexibility. In addition, each wrench also offers greater convenience: having one tool to carry not only lightens a tool belt but also saves time-consuming trips to the toolbox.

Using Lowell's proven ratchet technology, each 100T has three square sizes in one permanent socket to handle the most common nut sizes in tower fasteners. The 1-1/8" x 1-5/16" x 1-1/2" triple square socket allows for tolerances on 1-1/8" square nuts (5/8" bolts), 1-1/4" square nuts (3/4" bolts) and 1-3/8" square nuts (7/8" bolts). It also fits 1-1/2" hex bolts.

There are three models: the 103T has a 12" handle and weighs 2-3/4 lbs., the 104T has a 15" handle and weighs 3 lbs., and the 105T has an 18" handle and weighs 3-1/4 lbs. The long handles and a torque capability of 300 lb-ft. bring plenty of turning power to any job.

The Bolt-Thru design of the wrench head and socket makes it easy to tighten nuts on bolts of any threaded length. Other features include a heavy duty stamped and riveted metal handle with a vinyl grip for greater worker comfort. The complete assembly is coated with an epoxy paint for added durability and easy cleaning.

For more information about Lowell or other wrenches, click here to go to Utility Products' Buyers Guide.