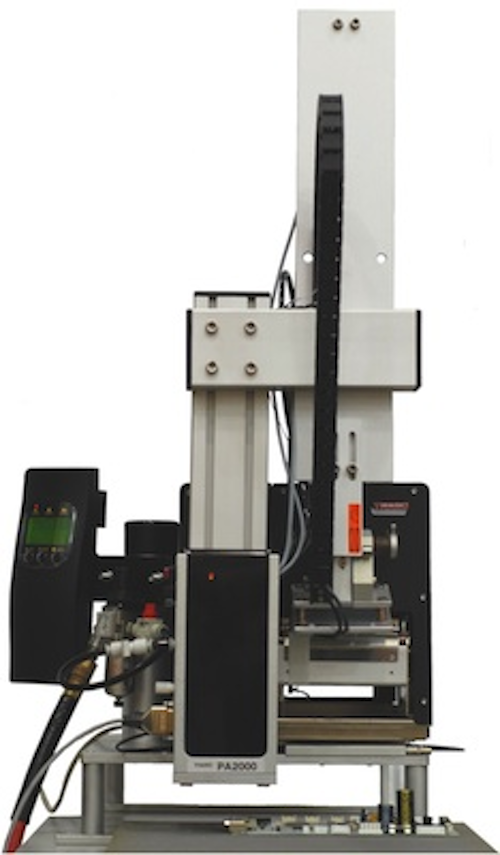 Brunswick, Ohio—The Tharo PA2000t Label Printer/Applicator is a cost-effective accessory for the Tharo H-400/H-600 Series of thermal/thermal transfer bar code label printers. The Tharo PA2000t Label Printer/Applicator is easy to use, with minimal adjustments necessary, quick setup and changeover for applying labels to the top or side of varying height or width products.

The PA2000t features a smaller footprint than other Printer/Applicators, 16.5² wide x 30² long for the Tharo H-400 Series or 19.5² wide x 30² long for the Tharo H-600 Series. Regardless of the orientation of the applicator, it has a remote front panel for easy access.

The PA2000t has an all-metal cabinet and is made to last with time-tested components. The heavy-duty cylinder will withstand high stress in side labeling, with minimal deflection, when using a conveyor.

With or without a computer attached, the PA2000t is automatic or semi-automatic; has the ability to apply labels from 2² x 1² to 4.5² x 8² in size; using the 6² wide printer, labels as large as 6² x 8² can be accommodated. The PA2000t can apply up to 58 labels per minute depending on printer used, label size and height of product.
For more information about Tharo Systems or other label printers, click here to go to Utility Products' Buyers Guide.