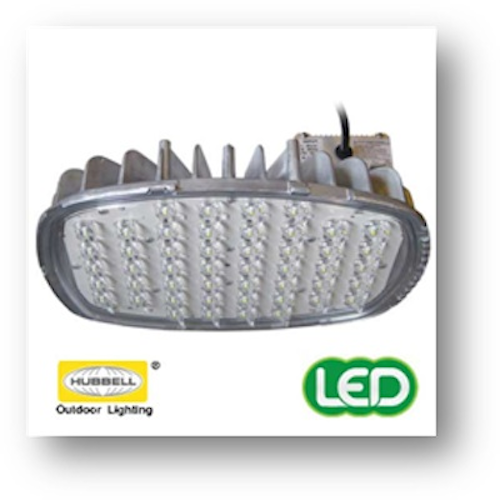 Greenville, S.C.—Hubbell Outdoor Lighting's Roadway RM/RF LED Retrofit Kit delivers a complete and powerful LED roadway solution, producing 6087 lumens in a 3G rated traditional cobra-head. The Roadway Retrofit Kit provides a versatile solution to upgrade existing 100-175W cobra-heads in any NEMA compliant fixture.

The Roadway RM/RF LED Retrofit Kit comes complete with driver and surge protection and enables customers for both retrofit and expansion projects to benefit from the energy-savings and low maintenance of LED lamp technology. The 68w unit provides an IP67 rated solution that has more than four times the life of 150w HPS with a 65 percent energy savings. The retrofit kit is designed to upgrade existing 100-175w cobra-heads and has been tested and certified for upgrading not only Hubbell RM Roadway HPS luminaires but also American Electric, Cooper, Lithonia and GE fixtures—providing one of the industry's most comprehensive and versatile upgrade solution.

Designed to provide energy efficient LED solutions for roadway lighting, the Roadway RM LED Series delivers more visible and uniform light with state-of-the-art optics featuring 48 LEDs (68w) at 4800K, which deliver an unprecedented 89 lumens per watt. A custom die-cast heat sink assures LEDs operate within design temperatures for excellent efficiency and LED life of 48,000 hr L90 / 100,000+ hr L70. Made in the USA in the traditional roadway design, the new RE/RF Retrofit Kit can be easily upgraded in existing NEMA compliant fixtures providing a quick retrofit solution that minimizes installation costs and delivers excellent LED performance and a low maintenance solution.

Roadway RM / RF LED Retrofit Kit Key Features:
• The retrofit kit has been tested and certified for use in NEMA compliant 100-175w roadway horizontal fixtures including American Electric, Cooper, Lithonia and GE fixtures
• Quick Installation – simply remove optical assembly and lens, install LED retrofit unit into door assembly with existing lens retainer(s), connect power leads and close door
• 68w – Universal voltage 120-277V
• 48,000 hr L90 / calculated 100,000+ hr L70 LED life
• 6087 lumens (LM79)
• 89 lumens per watt
• 4800K, high CRI LEDs
• Type II medium cut-off distribution, BUG rating B1-U1-G1
• UL1598 Listed for use in wet locations
• 5 year warranty
• Made in the USA

For more information about Hubbell Outdoor Lighting or other lighting retrofit kits, click here to go to Utility Products' Buyers Guide.