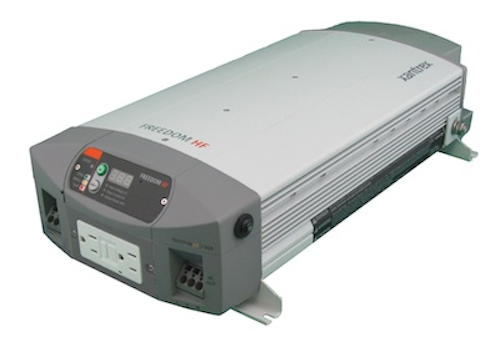 New Freedom HF Modified Sine Wave Inverter/Charger is the smallest, lightest and most affordable inverter/charger from Xantrex. One of the key enhancements include quick-connect ac terminal block on both ac input and output for easy wiring, which results in quick installation. Another new feature is ignition lockout, which disables the inverter when the ignition is turned off—helping minimize battery drain. The Freedom HF now offers a 1000W model with a 55A charger for large battery banks that may demand powerful charging output, in addition to the upgraded 1000W/20A and 1800W/40A models. All models meet UL458 and are tested in H.A.L.T. for improved performance and reliability.
In addition, Xantrex's new Freedom SW Pure or True Sine Wave Inverter/Charger offers many features at an affordable price tag. Key new features include SERIES and PARALLEL stacking that enables twice the rated output and operation of 240 Vac applications, respectively.
Xantrex also offers an affordable, highly efficient solution to meet your specific demands with the PROwatt SW Series, featuring True Sine Wave ac output with 600, 1,000 and 2,000 watts options, respectively, all delivering the needed current to engaging demanding electrical loads.

For more information about Xantrex or other inverters/chargers, click here to go to Utility Products' Buyers Guide.