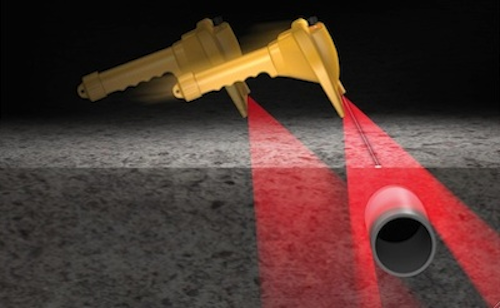 Green Bay, Wis.—Subsurface Instruments Inc. recently unveiled the All Materials Locator (AML), an exclusive scientific instrument that will change the way people locate underground objects. The AML unit is a highly sensitive tool that utilizes advanced, ultra-high microwave frequencies to find nearly any subsurface object. Unlike the deficiencies of GPR (or Ground Penetrating Radar), the AML will function with accuracy in clay, wet soil, snow or standing water without the need for a separate transmitter and receiver, wires, clips or clamps.

"The instrument was specifically designed to locate buried PVC pipes for the water, sewer, power, telecom, cable and gas industries. The AML's patented technology not only locates PVC, but finds all other types of pipes as well." said Jim Hokanson, SSI General Manager.

With its ergonomic handle, easy-to-read target indicator LCDs, and adjustable sensitivity switch, the AML makes locating subsurface objects more efficient than ever before.

The newly released AML unit implements a cutting-edge ground-penetrating radio frequency to detect objects that GPR may not. By simply sweeping the target area, left and right target indicators on the AML will activate to notify the operator that an object has been detected. The operator then rotates the AML until both the left and right target indicators light simultaneously, signaling that the underground object is in parallel alignment with the unit. Parallel alignment with the underground object is also confirmed visually with a laser target marker that is projected onto the ground. After obtaining proper alignment, the operator will continue scanning the ground in alignment to map out the object's length and run direction.

"In order to use the AML to its potential, the user needs to know where to start, and what he is looking for. It takes some training and practice to hone one's skills, but customers that know how to use it live by it," said Jim Hokanson, SSI General Manager.

SSI's talented team of technicians and developers has worked tirelessly to design, test and manufacture the revolutionary All Materials Locator. Through dedicated research and development, SSI has created a game-changer in the underground locating field. Able to locate almost any subsurface material (plastic, metal, wood, etc), you can now locate and identify almost any metallic or non-metallic underground object with an edge.

The AML is a highly sophisticated piece of equipment, therefore SSI encourages new operators to attend free factory training sessions at their Green Bay, Wisconsin location. This class includes 1 hour of classroom instruction and 3 hours of field demonstration.

Dozens of reps across the United States have joined SSI in distributing the AML to water, gas, utility and cable companies nationwide. Designed specifically for the needs of these industries, the AML's lightweight, patented technology locates subsurface objects faster, while maximizing job time effciency.

The AML uses patented technology that is proudly made in the USA, and is fully approved by the FCC.

The AML is guaranteed to be free of defects in material and workmanship for a period of 12 months to the original end-user purchaser. AML units in good condition may be refunded in full for a period of 30 days from purchase.
For more information about Subsurface Instruments or other underground locators, click here to go to Utility Products' Buyers Guide.