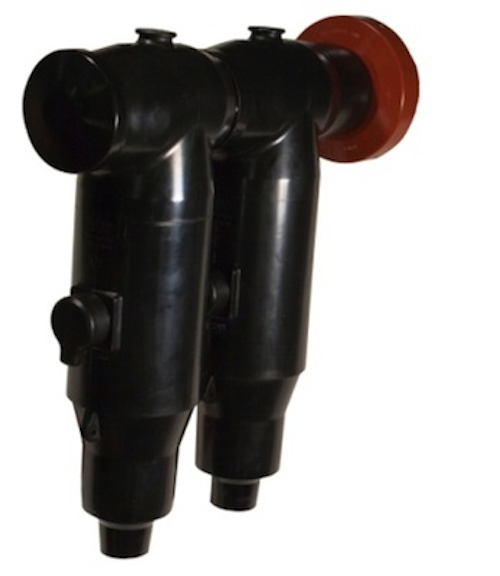 Waukesha, Wis.—Increase capacity and reduce losses with the new Cooper Power Systems 36(42) kV bolted tee connector for IEC-rated wind farm applications. Designed to meet higher voltage ratings and cable diameters of up to 800 mm2, the new fully-screened bolted tee connectors can be used for both indoor and outdoor installations, but are especially suited for the harsh, offshore wind farm environment where long cable runs and large cable is required.

The 1250 A, 36(42) kV bolted tee connectors utilize a pre-moulded separable connector which allows end-users to quickly and easily connect polymeric cable to transformers, switchgear, motors, and other electrical equipment equipped with a "C" interface as specified by CENELEC EN 50180 and 50181. They feature an 800 mm2 cable entrance for applications that require larger capacity, and can handle the full range of voltage classes and cable sizes on IEC- rated wind farms.

Cooper Power Systems, leader in electrical power delivery and reliability solutions for the utility, commercial and industrial markets, utilizes EPDM (Ethylene Propylene Diene Monomer) rubber housing so the connectors are fully submersible, and offer superior performance in underwater environments if flooding should occur. For added performance, they are multi-stress tested for 3000 hours. Cooper Power Systems bolted tee connectors also include built-in capacitive test points to ensure equipment is de-energized for added safety. Test points are available on both the bolted tee and companion tee for easy access.

"With an increased range of system voltage and a fully- screened design, our new bolted tee connectors combine industry leading EPDM performance with installation flexibility," said Mark Thurman, president, Cooper Power Systems, a division of Cooper Industries plc (NYSE: CBE). "We bring more than 40 years of experience in both moulding and designing underground separable connectors. To ensure the highest quality standards are met, all of our EPDM rubber and insulation formulation is mixed and blended in-house."
For more information about Cooper Power Systems or other tee connectors, click here to go to Utility Products' Buyers Guide.