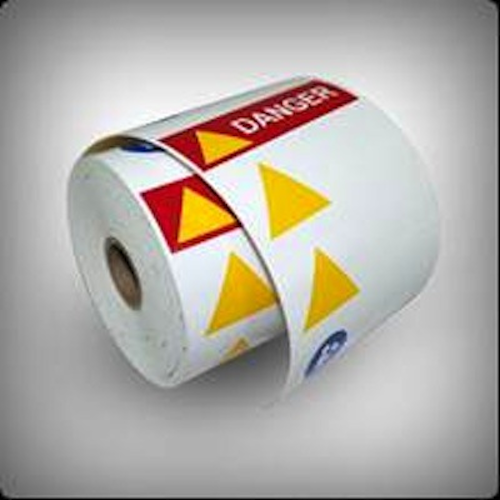 Graphic Products Inc., a labeling systems manufacturer for utility safety, introduces the DuraLabel Custom Label Service to help customers create their own custom, multicolor labels and signs with logos, special graphics and symbols.

Compatible with the DuraLabel PRO 300, DuraLabel Toro, DuraLabel 7000 and DuraLabel 9000 industrial labeling systems, Custom Label Service allows customers to create multi-color labels alerting of specific hazards, describing workflow and other uses. The custom print process creates a label of up to four colors that can be populated with black or any other color of type as it is run through the DuraLabel thermal transfer printer.

Design your own custom labels in three easy steps:

1. Sketch a design using your favorite software or a sheet of paper. Indicate desired specifications. Specify desired font and size. Include pictograms.

2. Select up to four spot-colors to indicate which items should be in color‹white, black, red, green, orange, yellow, blue or magenta.

3. Contact a DuraLabel representative at 888-326-9244 to discuss a specific application and representatives will help determine the appropriate vinyl label supply or other material appropriate to that environment. A proof will be delivered for your review. Once approved, your custom labels will be printed with your design and delivered to you.

Because DuraLabel representatives work directly with customers‹reviewing compliance needs, desired widths, lengths, quantities, adhesion strengths and supply options such as metal-detectable tapes, reflective vinyl tapes, two-color tapes and marine label tapes‹customers satisfaction is very high. In addition, cost savings are realized because the messaging printed over the custom label can be changed by the user at any time without reordering.

"Every facility has specialized needs and this service is a way to customize a label or sign to fulfill all of our customers' requirements, no matter how complex," said Steve Stephenson, Chief Marketing Officer, Graphic Products, Inc. "Customers are using this service to create everything from perforated, Do Not Operate' tags to multicolor corporate labels to differentiate divisions."

For more information about Graphic Products or other labeling systems, click here to go to Utility Products' Buyers Guide.