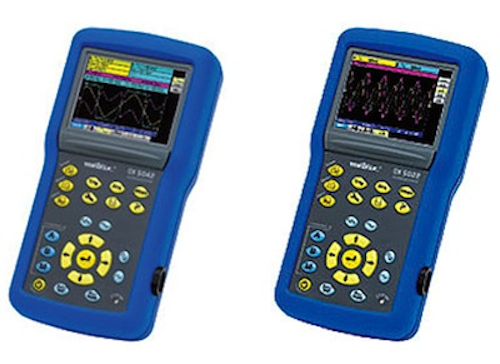 Compact, shockproof, IP54, Handscope Oscilloscope Models OX5022 and OX5042 can be comfortably held in one hand. AEMC Instruments' ergonomically designed instruments are equipped with a color screen and light emitting diode (LED) backlighting for precise, crisp data display. Integrated multilingual help screens are available at all times.

The Models OX5022 and OX5024 combine three instruments in one:
• 20 MHz or 40 MHz oscilloscope,
• Independent 8,000-count multimeter with power measurements, and
• Built-in harmonic analyzer out to the 31st harmonic (fundamental between 40 Hz and 450 Hz).

Two MB of storage are available for recording data. In the multimeter mode, it is possible to store graphic recordings of 2,700 measurements from five minutes to one month. In addition, isolated Universal Serial Bus (USB) communication with the Standard Commands for Programmable Instrumentation (SCPI) protocol is available, making it simple to program the instrument remotely with the supplied SX-METRO software. These products have been developed using an Eco-Design approach to reduce their environmental impact and come with a three-year warranty.
For more information about AEMC or other handscope oscilloscopes, click here to go to Utility Products' Buyers Guide.