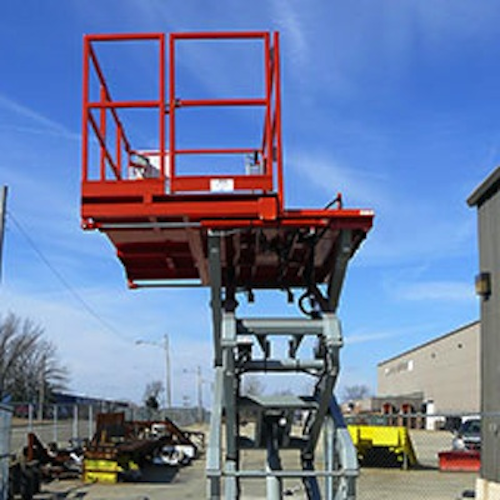 Cudahy, WI — For fall protection, efficiency and safety can be improved with the use of specializedplatforms, gates and railings from Man Lift Mfg. Co. The company designs and manufactures specialized platforms, gates and railings for a variety of applications. Open platforms with fall arrest are used in painting applications while modified railings and gates provide ease of access in servicing and maintenance applications.
Powered Side Extension Deck
• Extends Outreach
• Powered Platform
• Precise Positioning
• Improves Access
Modified Gates and Railings
• Ease of Access with Side Gate
• Modified Railing
Open Platform with Fall Arrest
• Fall Arrest for Added Safety
• Open Platform
• Improves Access
Secialized Platforms
• Collapsable Railings
• Two Access Points for Work Performed on Both Sides of Platform
• Unique Access Solution
Customized Gates and Railings
• Customized Forward-Leaning Railing
• Front Gate
• Bump Protection
For more information about Man Lift Mfg. Co or other platforms, click here to go to Utility Products' Buyers Guide.