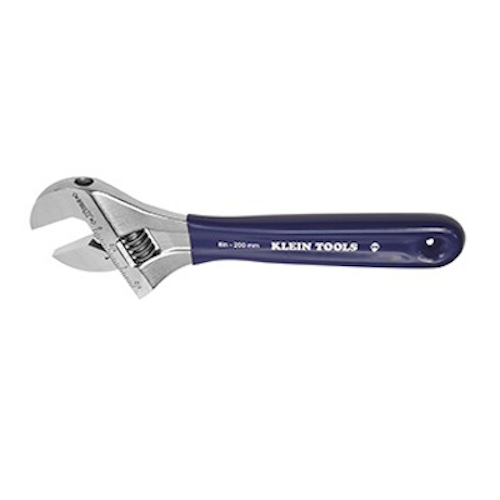 Electrician tools are expanded with Klein Tools new Extra-Wide Jaw 8" adjustable wrench. It features a full 1 1/2" jaw capacity, the same capacity as a standard 12" adjustable wrench. The shorter handle makes it easier to reach nuts and bolts in confined spaces.

The Klein Tools Extra-Wide Jaw 8" Adjustable Wrench (Cat. No. D509-8) is designed with a minimally protruding jaw shank that also provides greater capacity in tight spaces. A 4-threaded knurl worm gear helps balance this wrench for smoother operation and it allows the user to apply up to 30% more force. It comes with standard and metric measurement scales for faster adjustment and a wider handle for added comfort.

"Customers have told us they are looking for compact and functional tools," said Senior Product Manager Gary Lalla. "This wrench provides a short 8" tool length and enough jaw capacity to handle most electrical, HVAC, plumbing, and maintenance applications."

For more information about Klein Tools or other wrenches, click here to go to Utility Products' Buyers Guide.