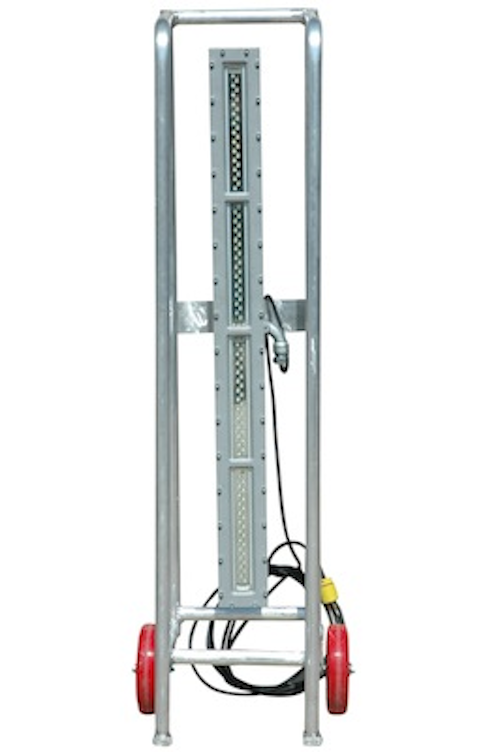 Kemp, TX — Explosion proof lights from Larson Electronics' Magnalight.com are available in a wheeled, cart mounted explosion proof LED light with swivel mounting. Designed for versatility and easy light placement, the EPLCD-48-100LED Explosion Proof Low Profile LED Light provides the convenience of a wheeled car mounted lighting system combined with the versatility of a swivel mounted lamp. This LED light provides high output and the ability to easily maneuver and angle the lamp assembly for better illumination of areas not easily reached with standard cart lights.

The EPLCD-48-100LED explosion proof light on dolly cart from Magnalight.com provides operators in hazardous locations with a powerful lighting solution that can be easily maneuvered around the work area and positioned for the best coverage possible. This cart mounted lighting system is comprised of a high output, low profile LED lamp assembly affixed to a wheeled cart with a swiveling mounting bracket. This cart and swivel mounting bracket design allows operators to roll the light into position and then flip or angle the lamp assembly for the best coverage of the workspace. These light carts are well suited for use in containers and tanks where entry is through standard sized manways. Operators can simply pass this low profile assembly through manways, then once inside they can turn the lamp parallel to the ground for maximum light dispersion. The lamp assembly on this cart is a 100 watt LED design that produces 7,000 lumens of high quality white light. The lamp has a 100,000 hour rated service life, and the LED design and rugged construction of the lamp housing provides excellent resistance to the abusive effects of an industrial work environment. The wheeled cart is fabricated from lightweight aluminum and is fitted with solid rubber wheels for trouble free and low maintenance operation. This high performance LED light cart is Class 1 Division 1, Groups C and D approved and carries a T4A temperature rating. Magnalight also includes ample cord length and a straight blade plug for secure connections. This light cart is ideal for applications such as chemical plant tank cleaning and maintenance, utilities work, plant turnarounds, and anywhere portable yet powerful lighting with hazardous location approval is required.

"The EPLCD-48-100LED explosion proof cart has been designed as a dolly cart with a fully adjustable LED light head, allowing the operator to position the light beside or underneath large parts for maximum illumination," said Rob Bresnahan with Larson Electronics' Magnalight.com. "The new low profile design allows the operator maneuver this explosion proof LED cart in areas with limited space."

Larson Electronics' Magnalight produces a full range hazardous location LED lights, explosion proof LED work lights, portable LED lights, explosion proof flashlights and LED trouble lights.

For more information about Larson Electronics or other explosion lights, click here to go to Utility Products' Buyers Guide.