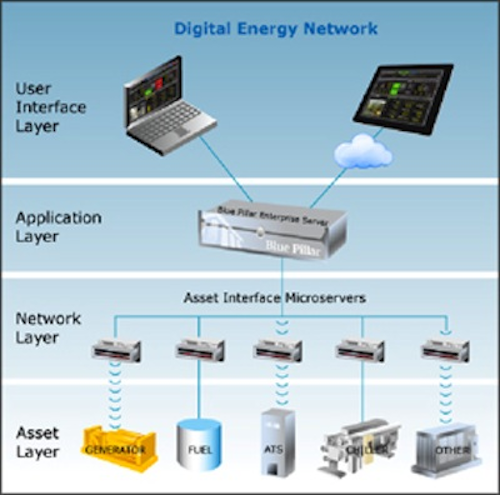 Indianapolis — Blue Pillar's digital energy network management system centralizes power infrastructure command and control to secure operations and unlock energy savings. Blue Pillar, a developer of packaged software solutions that automate the management of distributed energy resources, has announced the introduction of the world's first Digital Energy Network based on the company's next-generation packaged solution. As a turnkey "system of subsystems," a Blue Pillar Digital Energy Network securely consolidates and centralizes the monitoring and management of an organization's disparate energy assets. This best practices approach enables any organization to lower its total cost of energy asset ownership, improve regulatory and environmental compliance and increase levels of asset reliability, business continuity, operational efficiency and cyber-security.

"The need for a Digital Energy Network exists in virtually any organization looking to enhance revenues from existing legacy power assets," said Peter Asmus, senior research analyst of energy with Pike Research. "That's because today's status quo enterprise energy infrastructures typically lack remote monitoring and control capabilities over critical energy assets, such as diesel generators, automated transfer switches or co-generation systems. The Digital Energy Network concept is bridging this significant gap, setting the stage for growth in distributed energy resource platforms such as microgrids, demand response and virtual power plants."

In the absence of a Digital Energy Network, organizations have had to contend with the following problems with their backup power systems:
• Service interruptions that disrupt business operations,
• Operational inefficiencies due to an absence of centralized asset management,
• Unrealized financial returns from new demand response markets
• Regulatory compliance exposure,
• Lack of real-time insight into energy asset readiness, and
• Energy asset security risks.

To overcome these challenges, a Blue Pillar Digital Energy Network adds a cyber-secure layer of intelligence to an organization's energy assets and connects them digitally with full remote command and control capabilities. Each energy asset is networked into a system of subsystems that are monitored and managed centrally in real-time. Blue Pillar¹s Digital Energy Network is also designed to interface with other energy management systems, including those for buildings, campuses and/or microgrids. This provides an infrastructure-wide view into the performance of critical energy assets resulting in real-time situational awareness down to the circuit level.

"Deploying Blue Pillar's Digital Energy Network for Tenet's energy fleet will help us minimize our overall energy spend, streamline our day-to-day energy management operations and make a meaningful contribution to the stability of the power grid," said Ken Sutherland, Vice President of Engineering Services, Construction and Design at Tenet Healthcare Corporation. "Blue Pillar's packaged software solution scales and each campus can be deployed quickly, which gives Tenet a faster path to achieve savings."

Blue Pillar¹s Digital Energy Network
With Blue Pillar's next-generation energy management system, organizations can perform a wide range of critical functions that include:
• Visualization: real-time monitoring of energy assets from any web-enabled device with live surveillance feeds into individual assets;
• Dispatch: Secure, intelligent control of on-site energy capacity based on local load requirements, upstream grid-level instability or economic value;
• Testing/Compliance: remote initiation of emergency power supply system tests required by EPA, Joint Commission or corporate regulations. Automated reporting and archival creates operating history by circuit,
• Emergency Management: perform 24/7 monitoring of system status, immediate notification of emergency events, post-emergency analysis,
• Real-Time Situational Awareness: determine at-a-glance status of all emergency power assets and quickly troubleshoot individual assets,
• Data Logging: support event, historical, archival and testing logs.

Blue Pillar's Digital Energy Network consists of the next-generation Blue Pillar Enterprise Software that runs on a central server or in the cloud, and secure Asset Interface Microservers (AIMs) that connect the energy assets, such as generators, switchgear, automatic transfer switches, fuel systems, cogeneration and chillers.

The system is also comprised of the Blue Pillar Dashboard that provides real-time situational views into the state and readiness of all energy production and consumption equipment across all categories of energy assets. In addition, the system features an Asset Library that creates a digital representation of each energy asset in the Digital Energy Network. This continually expanding library offers the industry¹s most comprehensive list of makes, models and vintages of energy assets from hundreds of manufacturers along with detailed wiring diagrams and work instructions to connect to AIMs.

For more information about Blue Pillar or other energy networks, click here to go to Utility Products' Buyers Guide.