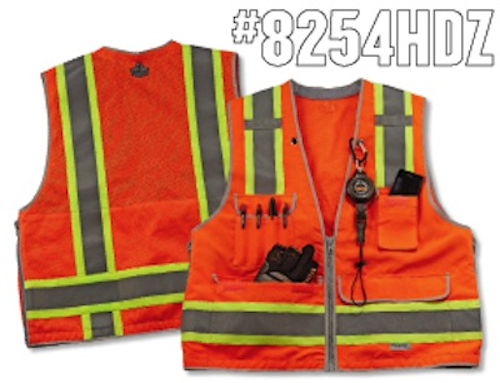 St. Paul, MN — GloWear safety vest line for surveyors, available from Ergodyne, has been expanded to include the 8254HDZ Class 2 heavy-duty surveyors safety vest, available January 2013. With its heavy-duty construction and enhanced storage solutions, the new 8254HDZ safety vest delivers on protection and comfort while increasing productivity.

The 8254HDZ safety vest is designed for workers who need tools close at hand, it's reported. The vest offers ample storage solutions in a rugged design intended for high durability.

Providing maximum visibility, the 8254HDZ safety vest uses 3M Scotchlite reflective material with a contrasting two-tone design. No shortage of storage, the vest offers seven pockets and integrated grommets for lanyard attachment. Additionally, the 8254HDZ features an ANSI-compliant 300D oxford polyester solid front and ANSI-compliant mesh back for a sturdy, breathable fit.

"This vest is for the tenacious professional who demands more than just visibility," said Tom Votel, president and CEO of Ergodyne. "For workers looking for a valuable piece of gear to help on the highways and byways or the forests and fields, look no further than the 8254HDZ."

The GloWear 8254HDZ Class 2 heavy-duty surveyors vest will be available January 2013 at all authorized US distributors.

Key Features:
• ANSI-compliant 300D oxford polyester solid front (5.3 oz.)
• ANSI-compliant mesh back for breathability (4.1 oz.)
• Heavy-duty #10 zipper closure
• 3M Scotchlite Reflective Material, 2-inch Level 2 ANSI-compliant
• Reflective set on 3.5 inch contrasting color background
• Internal webbing for added structure
• Soft terry cloth neck zone
• Lanyard grommet holes
• Dual mic tabs
• Pockets: Four outside, two side-seam, large zippered rear document / tablet pocket
• Orange
For more information about Ergodyne or other safety vests, click here to go to Utility Products' Buyers Guide.