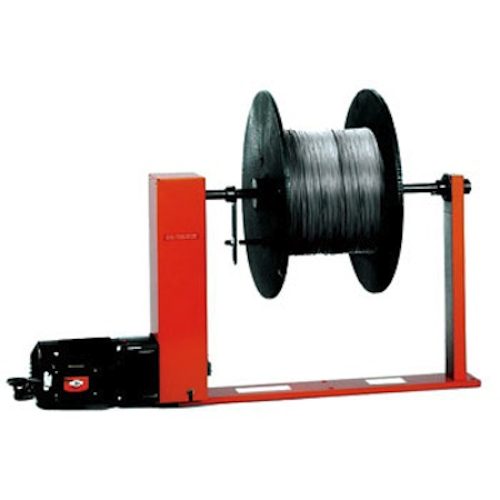 Eraser's Model DE600M motorized reeler and winder easily reels wire or cable without operator fatigue and quickly de-reels large amounts of wires or cables with no pulling. The 1/6 HP motor turns the shaft at a constant speed and can handle reels of material up to 75 lbs. The unit features a handle to enable manual reeling and dereeling. Reels are easily loaded and unloaded.

Eraser offers a wide variety of reelers, dereelers and winders that allow your production line to operate more efficiently and effectively. Eraser's reelers, dereelers and winders are available in manual or motorized and can handle the smallest to largest jobs. Eraser offers collapsible reelers and dereelers for producing neat coils of wire and dereeling hanks or coils of material by reversing the reeling operation. For highest productivity, reelers, dereelers and winders should be paired with an Eraser wire, cable or tubing cutter.

The Eraser Company Inc.
For more information about The Eraser Company or other reelers and winders, click here to go to Utility Products' Buyers Guide.