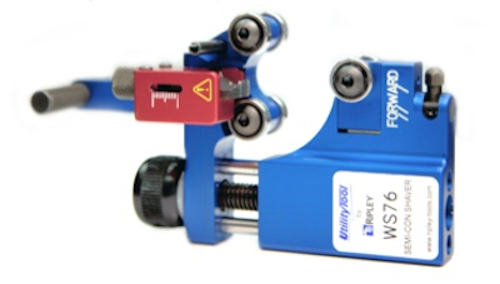 Cromwell, Conn.—Introducing the WS 76 Semi-Con Removal Tool, part of the UtilityTool product line by Ripley. This tool is designed specifically to accommodate semi-con diameters of 0.70" – 2.3". The WS 76 spiral action also accurately removes the bonded semi-con shield within 0.98" in forward position and within 0.27" in reverse position. Easy blade replacement, an additional winding pin, and no need for messy cable lubricant make this tool ideal for the utility professional to do their job more effectively and efficiently.

The WS 76 is made in the U.S.A. of a strong, high quality steel and aluminum construction.

The WS 76 tool is being introduced as part of the Utility Tool brand of products manufactured by Ripley. Utility Tools are designed and manufactured for installers and contractors in the power, transmission and distribution industries and are the leading brand for wire and cable preparation.
For more information about Ripley or other remover tools, click here to go to Utility Products' Buyers Guide.