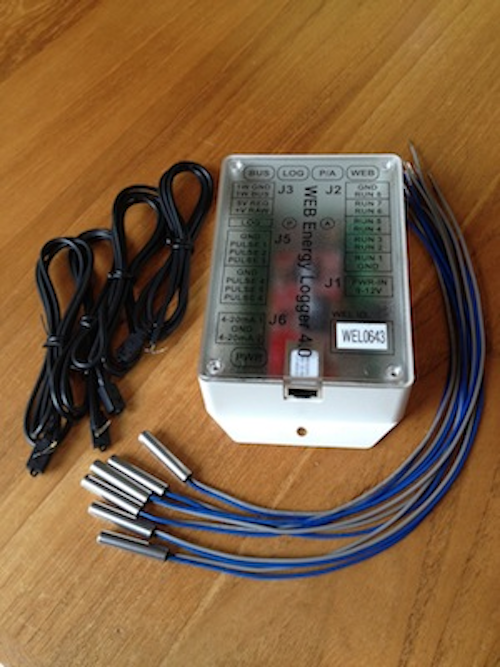 Mantorville, Minn.—DataNab, a supplier of networked automation devices and sensor solutions for commercial and residential systems, announces that its 1-Wire sensor solutions are exclusively driving temperature readings for the Web Energy Logger, an alternative energy monitoring solution for residential and commercial users.

Web Energy Logger owner and developer Phil Malone first designed the Web Energy Logger to verify performance and measure energy consumption for alternative energy systems installed at his home in the western Maryland mountains. He considered himself a hobbyist but discovered a large community of alternative energy enthusiasts across the world. He realized that many had difficulty validating that their systems were performing as advertised and reducing costs.

Today he has residential customers around the world using the system to monitor passive solar and geothermal exchange heating and cooling systems, radiant hydronic energy storage and distribution systems, and fresh air systems using energy recovery ventilation (ERV) solutions. Commercial customers include Thermo Dynamics of Nova Scotia, Canada, which builds the Web Energy Logger into its solar thermal water heating systems.

Malone designed the Web Energy Logger around 1-wire sensors to simplify wiring for end users and installers, and allow customers to easily add more sensors to the network as systems scale. Malone was impressed with the quality and versatility of the DataNab 1-Wire sensors and found that they cost less than half of competitor¹s sensors, enabling him to save a large amount of overhead costs while ensuring that his users have reliable sensors and flexible options.

"DataNab was the answer to my prayers," said Malone. "Until I found DataNab, there was no economical, volume-based solution on the market. They allowed me to stop making my own sensors, which would have been very difficult to do today considering the quantities I'm selling. Essentially what DataNab has done is help me grow my business."

A typical Web Energy Logger Starter Kit contains the central data logging unit, a power supply, cables, crimps and 10 sensors. Customers can choose between various DataNab sensor styles to best match the environment.

"Each DataNab sensor style tends to have a unique application," said Malone. "We recommend the plastic encapsulated sensors for monitoring air ducts and room temperatures, and the small stainless steel sensors for strapping to copper pipes. Those are built to withstand condensation from water and Freon lines, and they do not corrode. We also use their large, rugged stainless steel probes for outdoor and underground temperature readings."

Residential and commercial integrators find the solution easy to install due to the 1-wire daisy-chain capability, which reduces time and complexity on the job. Malone notes that it¹s simple to run a loop of wire around a utility room to monitor inlet/outlet air temperatures from any point.

"You have a pair of wires and can clip sensors anywhere on that pair," said Malone. "The controller software interrogates the sensors by utilizing a unique identifier to communicate data. It¹s very smart."

The network-driven Web Energy Logger solution also allows users to track and share real-time performance data online with others that have the system. Malone has established a large online community of residential users that map their locations and follow each other's data. Visit http://www.ourcoolhouse.com and http://www.welserver.com for more information.

"The 1-wire philosophy is a no-brainer for OEMs and manufacturers looking to add temperature sensing capabilities to products," said Adam VanOort, president, DataNab. "Customers get affordable sensors, and lower costs and installation times by daisy chaining multiple sensors on a single twisted pair. Product development costs are lower because 1-wire sensors don't require a separate A/D pin for each sensor—unlike conventional temperature sensors. Phil Malone takes advantage of this model to create a powerful and affordable product."
For more information about DataNab or other energy monitoring products, click here to go to Utility Products' Buyers Guide.