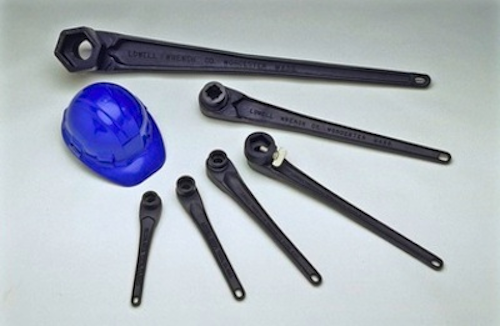 A twofold problem faces companies involved in heavy industries: how to make workers more productive without sacrificing their safety. Too often, workers will use the wrong tool for the job, resulting in damaged equipment or personal injury. Lowell Corporation's 40 Series ratchet wrenches and 50 Series socket wrenches are designed to give workers the right tools for demanding applications.
The cast malleable iron 40 Series wrenches are available up to 48 inches long with square, hex or round/keyed openings up to 4 1/2 inches. They have reversing controls in the head and enclosed, replaceable gears. The tools' bolt-thru design makes it easy to tighten nuts on any threaded length.
The 50 Series socket wrenches take a wide range of hex and square sockets that can be easily changed out with a removable retaining ring. Ratchet handles are available up to 64 inches long and socket openings up to 9 inches. There is a reversing control in the head, and the bolt-thru design lets the tool access nuts on any threaded length. For extra durability, the ratchet mechanism is enclosed.
For more information about Lowell or other wrenches, click here to go to Utility Products' Buyers Guide.