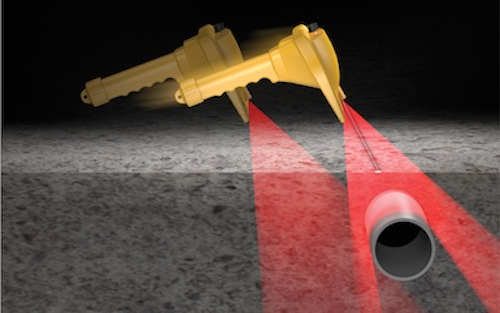 Using technology originally developed for the aerospace industry, Subsurface Instruments' new All Materials Locator (AML) locates subsurface objects indiscriminately—cable, pipe, plastic, metal or wood. The AML unit is a highly sensitive tool that uses advanced, ultra-high microwave frequencies to find nearly any subsurface object.
The instrument was specifically designed to locate buried polyvinyl chloride (PVC) pipes for the telecom, cable, power, water, sewer and gas industries. The AML's patented technology not only locates PVC, but also finds all other types of pipes. By simply sweeping the target area, left and right target indicators on the AML will activate to notify the operator that an object has been detected. The operator then rotates the AML until both the left and right target indicators light simultaneously, signaling the underground object is in parallel alignment with the unit. Parallel alignment with the underground object is also confirmed visually with a laser target marker that is projected onto the ground. After obtaining proper alignment, the operator will continue scanning the ground in alignment to map out the object's length and run direction.

For more information about Subsurface Instruments or other material locating products, click here to go to Utility Products' Buyers Guide.