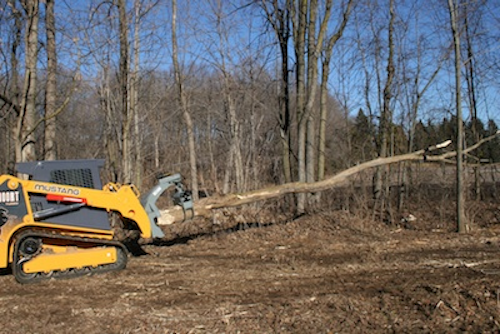 CEAttachments Inc., a global supplier of attachments and accessories for compact equipment, announces the addition of all new EDGE Rotating Log Puller Grapple attachment for skid steer and track loaders.

The new EDGE Rotating Log Puller Grapple is not just for logs. This versatile attachment is designed to lift and handle heavy, awkward size material such as logs, culverts, water pipes, telephone poles and more with controlled precision. Operators can use this multi-purpose attachment to load, unload and transport material up to 1500 lbs. Pull timbers out of the woods quickly and easily. Move and place pipe and poles or other materials with the power of a skid steer or track loader.

The new EDGE Rotating Log Puller Grapple features a unique spring-centered return grapple that rotates up to 180 degrees for grabbing material at different angles. It features spring-centered return, lateral lock and in-line lock positions. The serrated cradle of the grapple steadies materials in-line for straight-on loading, transport and controlled placement.

The grapple tines open to a maximum of 39 inches for clamping large objects and folds together as tight as 3 inches in diameter for securing brush, pipe or smaller material tightly.

This attachment comes complete with hose saver kit attached to the frame of the attachment, hoses and flat face couplers.

For more information about CEAttachments or other attachments, click here to go to Utility Products' Buyers Guide.