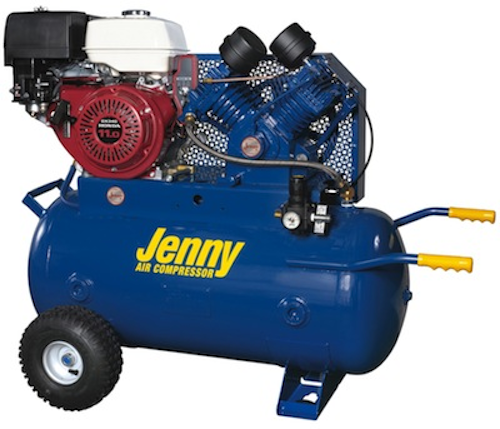 Somerset, Pa.—Jenny Products Inc. introduces the W11HGB-30P to its line of two-stage wheeled-portable air compressors. Featuring a powerful gas engine and high-capacity "W" pump, the compressor offers the highest air volume in its class.

The W11HGB-30P is equipped with an 11-horsepower Honda GX-Series engine with electric start. It includes a 30-gallon, ASME-certified air tank with a durable powder coat. The compressor produces 21 CFM at 100 PSI or 17.6 CFM at 175 PSI.

Built to withstand tough operating conditions, the compressor includes several features to reduce maintenance and maximize uptime. Splash lubrication with Jenny "Ultimate Blue" compressor-pump oil offers contractor-duty protection of the pistons, crankshaft, bearings, rings and cylinders.

Additionally, the W11HGB-30P is belt driven with a large flywheel and special unloading valves for easy start-ups and extra cooling, and a directional air shroud helps further reduce pump temperatures. The unit is also equipped with a totally enclosed belt guard, protectively mounted fittings, a stainless steel braided discharge hose and a large canister intake filter with replaceable filter elements for further protection.

For easy maneuvering and positioning around the jobsite, the W11HGB-30P includes two fully pneumatic tires and convenient lifting handles. Other standard features include a manual tank drain, pressure relief safety valve, high-quality pilot valve, pneumatic throttle idle control, anti-vibration feet, and tank, regulator and outlet pressure gauges.

Options include an oil sight glass, air line filter and lubricator. Additionally, different engines and pressure outputs are available upon request.

For more information about Jenny Products or other air compressors, click here to go to Utility Products' Buyers Guide.