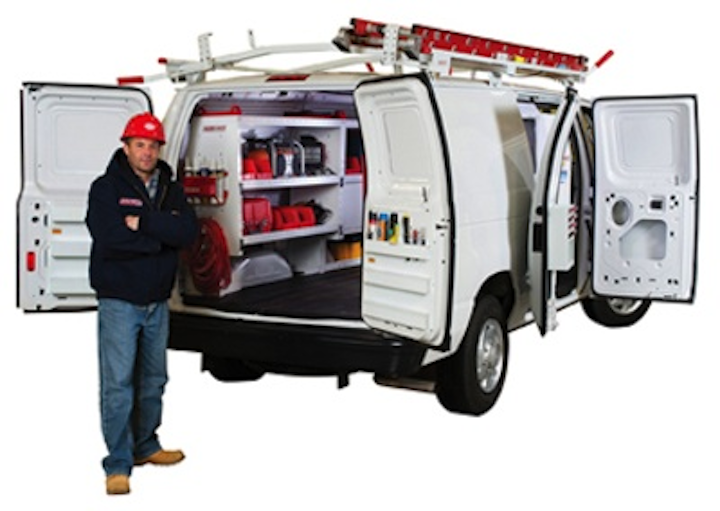 Crystal Lake, Ill.— Knaack LLC announces new WEATHER GUARD Van Solutions—including professional trade packages, new bulkheads and shelving, new accessories, and new specialty and secure storage, along with enhanced organization and quick installation features.
WEATHER GUARD profession-specific van storage packages are customized for the unique job requirements of electricians, telecom, general contractors and remodelers, plumbers, mechanical/HVAC, security and more. Pro-packages are available for all full-size, high-roof and compact vans.
The new WEATHER GUARD Rapid Mount Shelving has deeper, fully-hemmed, 16² shelves to fit large tool cases and boxes, and tool-less adjustable shelves and dividers. New secure storage door and drawer modules offer extra theft-resistance. End panel caps have easy-to-reach tie-down points. In addition, Rapid Mount Shelving comes with notched floor clearance for PACK RAT drawer units or wide supplies.
A wide range of new ³Red Zone² accessories is announced that mount to shelf end panels, bulkheads or van doors for easy access to frequently used items. New tool and parts cabinets, cases, bin boxes and locking cabinets are available, as well as the Cab Command Center—a between-the-seat organizer— and the Grab & Go tool cart.
For more information about Knaack or other van storage products, click here to go to Utility Products' Buyers Guide.