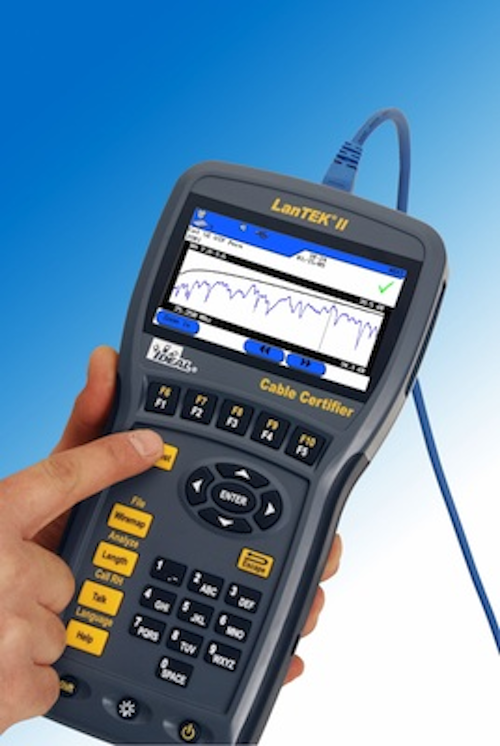 IDEAL Industries Inc., a data communications technology company, has announced its latest generation of local area network (LAN) cable certifiers—the LanTEK II. This new line of three certifiers provides performance certification of LAN cabling to Telecommunications Industry Association (TIA), International Organization for Standardization (ISO) and International Electrotechnical Commission (IEC) performance standards, reportedly making it the most comprehensive line of cable certifiers in the industry.
With three models to meet copper certification requirements from 350 to 500 to 1,000 MHz, and full fiber optic certification of multi-mode and single-mode fiber optic cabling, the new line of LanTEK II certifiers is cited to offer an all-inclusive solution for installation, maintenance and certification of LAN cabling.
IDEAL LanTEK II certifiers deliver high performance, diagnostics and speed. Complete Category 6/ISO Class E tests are performed in only 14 seconds, including the saving of full graphical data. Test results are displayed on an ultra-bright, high-resolution liquid-crystal display (LCD) that facilitates faster analysis and easier navigation of the graphical user interface.
For more information about IDEAL Industries or other cable certifiers, click here to go to Utility Products' Buyers Guide.