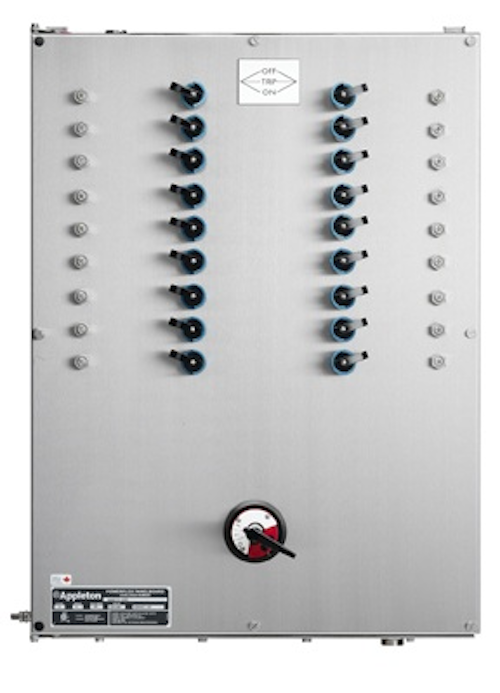 Rosemont, Ill.—Introduced three years ago, the PowerPlex panelboard from Appleton has helped electrical contractors significantly reduce the time it takes to install panelboards in hazardous industrial locations by eliminating the need for external conduit or cable seals, and by its groundbreaking incorporation of individual breaker housings that minimize service downtime.

Now, Appleton has taken its PowerPlex concept to the next level with an important new upgrade: an integral bus bar system that customers can order to replace the standard hard-wired system. Compact and rated at 100 Amp, the new bus bar system results in greater wiring space plus does not require rewiring if the branch circuit ampacity increases. Also, because modern electrical systems are subjected to varied and repeated inrush currents, the bus bar provides superior resistance to short circuits and mechanical failures when compared to cable.

Suitable for use on lighting, heat trace and power circuits, the PowerPlex is engineered for Class I Zone 1 and Class I Division 2 environments like those found in petrochemical and chemical plants, waste treatment centers, and other industrial areas where explosive fumes may be present. It breaks away from traditional panelboard design by transferring its flamepath protection from the enclosure to individual circuit breaker housings. Component-level protection allows the PowerPlex to deliver increased installation flexibility, improved reliability, as well as simpler, faster maintenance while also eliminating the need for external conduit or cable seals.

For more information about Appleton or other panelboards, click here to go to Utility Products' Buyers Guide.