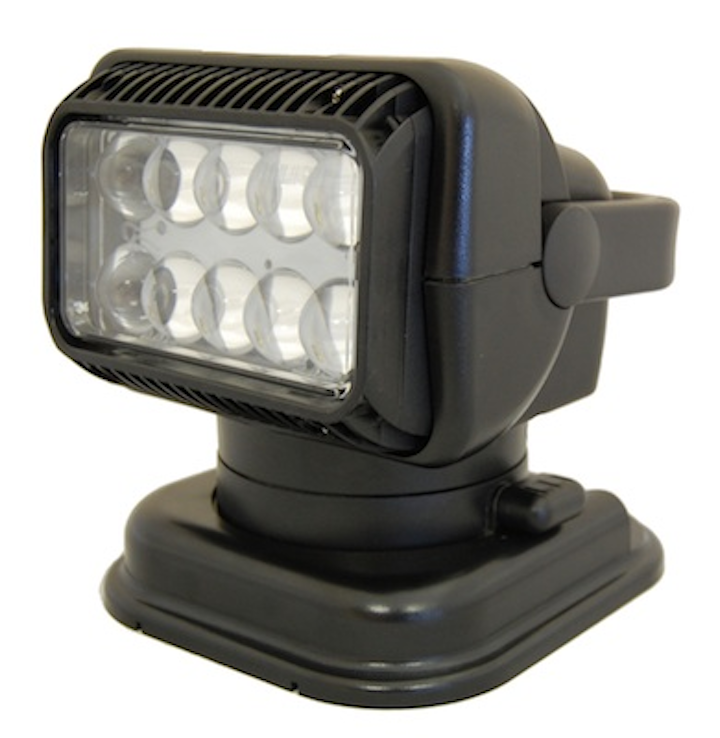 Golight Inc. is proud to add light emitting diode (LED) illumination to its line of articulating spotlights. The new LED Golight couples high intensity with longevity and durability, while also reducing power consumption. The LED can be purchased on new Golight and Radioray units or as a retrofit.
By utilizing P-Vex lens technology, the new LED unit has a peak beam intensity of 200,000 candela. In addition, the hotspot—the most intense portion of the beam—is distributed over three times the area of a comparable halogen model.
Thermal management is handled by a finned thermo-convective cast aluminum heat sink matched with an airflow-conducive bezel. These two design features promote natural heat dissipation, allowing the LEDs to function at a safe and stable operating temperature. This attention to thermal management will ensure maximum LED output over their 50,000-hour useful life.
For more information about Golight or other spotlights, click here to go to Utility Products' Buyers Guide.