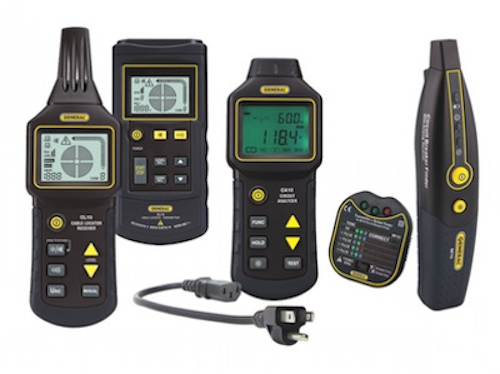 New York—When renovating any kind of structure or building, knowing the location of cable and pipe, as well as the locale and performance of circuits and circuit breakers, is essential. The new Cable & Pipe Locator (CL10), AC Circuit Analyzer (CA10) and AC Circuit Breaker Finder (BF10) from General Tools & Instruments (General) help contractors and electricians to accurately execute these tasks in a fraction of the time of other methods.

General's Cable & Pipe Locator (CL10) arms contractors with the information that allows them to safely break through walls without having to track down and analyze construction drawings. It quickly pinpoints the location of electrical cables and metallic water, gas or drain pipes by revealing infrastructure up to 6.6 ft. (2m) behind walls, above ceilings or under floors. The CL10 also allows users to easily trace circuits, detect open- and short-circuits, find outlets covered by plaster and identify a circuit's breaker. The CL10 transmitter and receiver communicate on any of eight channels and display readings on a big, bright graphic LCD. Both units also include a flashlight for illuminating dark areas. Used with a metal rod, the system also can locate blockages and constrictions in plastic pipes.

The AC Circuit Analyzer (CA10) easily identifies 110/220VAC power circuit and wiring problems that can cause shocks, sparks, fires, equipment failures and poor equipment performance. The CA10 measures a branch circuit's line voltage, peak voltage and neutral-to-ground voltage as well as the impedance of hot, neutral and ground conductors and available short-circuit current (ASCC). It can determine the voltage drop in an AC circuit in response to 12A, 15A and 20A loads, and its short test cable (20 in. [0.5m]) allows the CA10 to more accurately calculate the drop. It also identifies wiring configurations, detects wiring faults and missing ground wires, and tests the reliability and response time of GFCIs and RCDs.

Comprising a transmitter/socket tester and receiver, General's AC Circuit Breaker Finder (BF10) swiftly and effortlessly identifies individual branch circuits and wiring faults without interrupting power. Its fully automatic operation turns a two-man job into a one-man job. In addition to checking any outlet for common wiring errors, the BF10 can determine the circuit breaker associated with any 110V AC outlet. What's more, a patented circuit in the BF10 eliminates the "false positives" that weaker technologies like inductive coupling often produce. Indicator lights reveal faults such as missing earth, missing neutral and reversed wiring.

For more information about General Tools & Instrument or other cable and pipe locators, click here to go to Utility Products' Buyers Guide.