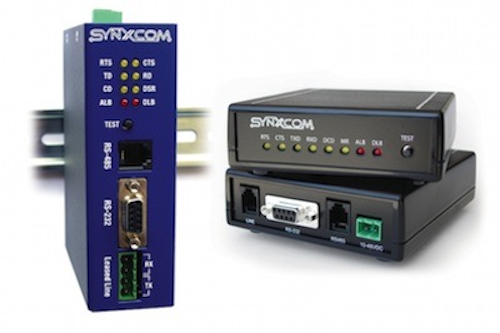 Synxcom introduces its newest fast-poll, industrial grade, leased line modem—the SM19202FP. The high-performance, point-to-point and multi-point modem offers a training time of 17.5 ms (RTS-CTS delay) over voice-band Telco leased line or private line circuits.
The multi-speed SM19202FP modem series is now offered in desk-top, DIN rail mounting and rack-mount configurations. The SM19202FP is especially useful for industrial communication applications including supervisory control and data acquisition (SCADA) systems, remote terminal units (RTUs), traffic monitoring and control, and industrial automation networks. The modem supports RTUs with EIA RS-232 and RS-485 interface at speeds of 19,200, 9,600, 4,800, 2,400, and 0-1,800 bps. The SM19202FP fast-poll modem operates over four-wire full-duplex or two-wire half-duplex unconditioned lines or private circuits. The modem is housed in a metal enclosure and operates between -40F to +185F.

For more information about Synxcom or other leased line modems, click here to go to Utility Products' Buyers Guide.