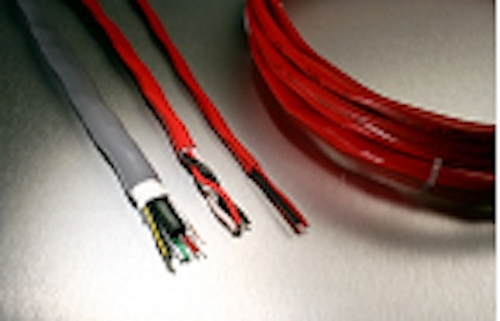 King of Prussia, Pa.—Arkema Inc. is expanding its product line and availability of Kynar Flex fluoropolymer resins for plenum wire and cable jacketing.

"Kynar Flex PVDF has long been used in the building construction industry as a primary and jacket for plenum cable, complying with NFPA 262" said Don Gaynor, Arkema's Electrical Industrial Sales and Market Field Manager for Fluoropolymers in the Americas. "While listening to our customers who use Kynar Flex in wire constructions, we note that they would prefer materials that are easy to process onto the wire with greater cold weather use range and materials that are more flexible and easier to bend in place for the contractors and installers," Gaynor noted.

With these targets in mind, Arkema has begun to offer two new products for plenum applications: Kynar Flex 3120-15, which is an easy processing 150C-rated PVDF copolymer that also provides improved lower temperature impact properties typical for PVDF; and Kynar Superflex 2500-25, which is a very flexible and easy-to-process PVDF copolymer for applications where the cable designer wants to offer easy installation and reduced jacket "shrinkback" upon cutting of the cable. These products complement an already extensive line of Kynar PVDF and Kynar Flex PVDF product lines designed for wire and cable extrusion and flexible plenum-rated conduit offerings.

Kynar Flex 3120-15 PVDF has a melting point in excess of 160C and has been designed with an optimum melt viscosity for speedy wire and cable processing of a smooth shiny jacket. Even with the higher melting point and temperature rating, it offers the same flexibility as the popular Kynar Flex 2900-04 grade PVDF.

Kynar Flex 2500-25 PVDF has a low flexural modulus of approximately 45,000 psi, making it attractive to plenum cable designers who often have complained that materials that meet the stringent NFPA 262 burn tests are often stiffer than standard materials used in areas where flame and smoke requirements are not as stringent. Like Kynar Flex 3120-15 PVDF, Kynar Flex 2500-25 PVDF has been designed with an optimum melt viscosity to assure excellent processing line speeds and jacket quality when proper extrusion conditions are met.
For more information about Arkema or other plenum rated wire and cable, click here to go to Utility Products' Buyers Guide.