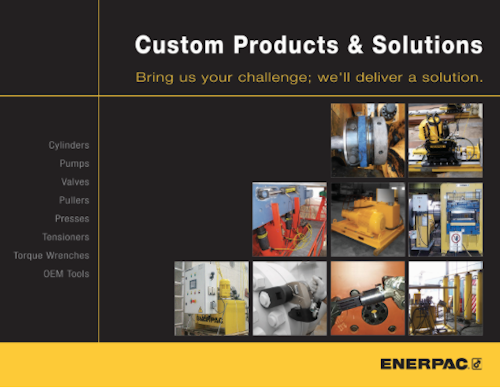 Utility supplies: Enerpac, a provider of high-pressure hydraulics, offers custom products and solutions to its customers to meet the needs of situations that require a solution not available in the standard offerings. Enerpac provides its customers with the value-added services of custom design, manufacturing and field support. With more than 50 years of supporting industrial markets, the Custom Products & Solutions Group is able to work with companies to understand the specific applications and produce cost-effective, turn-key solutions. The trusted group consists of multi-disciplined engineers, designers and product specialists.
Enerpac designs and manufactures more than 50,000 products in eight manufacturing facilities, all of which comply with numerous industry quality standard certification. This ensures the custom products are designed and manufactured to the same high-quality standards as stock products.
"Our customers most often request customized versions of our cylinders, pumps, press and bolting products," said Peter Crisci, Global Business Development Leader at Enerpac. "There are many reasons for requesting custom products, ranging from product-specific design features to having the ability to operate in extreme conditions."
Some examples of customized product design features include:
• Custom cylinder stokes or mounting methods
• Larger pump reservoirs or custom valve manifolds
• Presses with modified daylight dimensions and custom operator controls
• Bolting products such as hydraulic torque wrenches and tensioners to meet specific dimensional constrains
Regarding customization for extreme conditions, Enerpac can manufacture products for increased side load usage cycles, working at high or low temperatures, and operating in corrosive environments.
In addition to modified custom products, Enerpac also specializes in private-label products for OEM applications and complete turn-key systems including hydraulic circuits with controls.
About Enerpac
Enerpac is an international market leader in high-pressure hydraulics, with 28 offices in 22 different countries and over 1,000 employees. Enerpac produces thousands of high-pressure hydraulic products that are distributed worldwide. Enerpac focuses on the design of products, from the smallest cylinder to complete computer-operated lifting & positioning systems, which increase productivity and make work safer and easier to perform.
About Actuant
Enerpac is wholly-owned by Actuant Corporation, a diversified industrial company serving customers from operations in more than 30 countries and is headquartered in Menomonee Falls, Wisconsin. Actuant trades on the NYSE under the symbol ATU.
For more information about Enerpac, Actuant or other products, click here to go to Utility Products' website. Or visit our Industry News and Equipment Showcase e-newsletters.