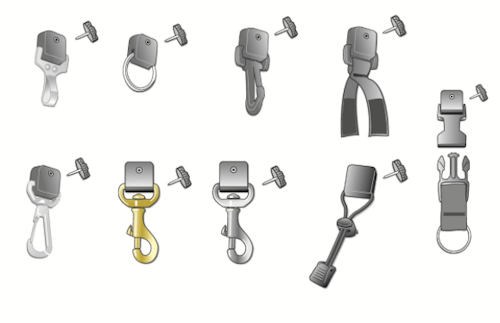 Safety equipment: Working at heights or on the ground, there's no time to waste fumbling for small, but critically important small hand tools and accessories like gloves, scissors, knives or small flashlights. The eight, inexpensive Add-A-Clip devices will prove to be invaluable when worker's hands need to be free.
Gear Keeper's versatile Add-A-Clip product family offers a choice of eight different clip models that can attach small hand tools to webbing straps, tool belts or backpacks. The Add-A-Clip product family also includes a wide range of attachment options. Workers can choose the perfect add-a-clip model to fit their needs; a threaded stainless steel pin stud that penetrates heavy material; a simple split ring; swivel snap clips and side activated quick release models. Also included are flashlight stabilizers and glove holders.
The Add-A-Clip series include the following models:
• ACO-1001 Plastic Snap Clip ($8.49)
• ACO-1002 Stainless Steel Split Ring ($8.49
• ACO-1003 Side Quick Release with split ring ($10.49)
• ACO-1004 Stainless Steel Snap Clip ($13.49)
• ACO-1005 Stainless Steel Swivel Snap Clip ($16.49)
• ACO-1006 Glove Holder ($12.49)
• ACO-1007 Brass Snap Clip ($11.49)
• ACO-1008 Flashlight Stabilizer ($8.99)
Quantity discounts are available. With millions of systems in use, Gear Keeper devices have a failure rate of less than .001 percent. The full line of Gear Keeper tool tethers and accessories are available on the company's website at gearkeeper.com or by calling Hammerhead Industries' Customer Service at 888.588.9981.
About Hammerhead Industries
Gear Keeper tethers are products of Hammerhead Industries Inc., the world's leading manufacturer of unique personal safety tethering equipment including retractable tethers and lanyards for tools, gear and instruments. Covered by numerous patents, Gear Keeper tethers are precision made systems that keep tools and instruments safe, secure and close at hand. With more than 3,000 configuration options and over one million systems in use, Gear Keeper tethers are found world-wide in a range of applications including fire/rescue, law enforcement, military, wind power generation, industrial safety, trucking, oil and gas exploration, outdoors/hunting, SCUBA/fishing, communications and more. All of the company's products are built "Hammerhead Tough" in the USA.
For more information about Gear Keeper or other products, click here to go to Utility Products' website. Or visit our Industry News and Equipment Showcase e-newsletters.