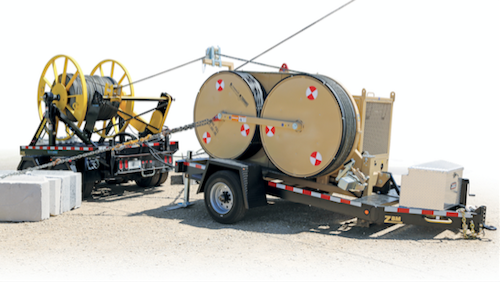 Condux Tesmec's new ARS610 puller tensioners and underground pullers, which will be on display at ICUEE 2017, provide more than 10 tons of pulling force and are for a wide range of underground pulling applications including power transmission and distribution cable installation, telecom and fiber.

The PT1250 and PT2450 puller tensioners provide features such as a negative self-acting hydraulic brake, an integrated hydraulic dynamometer, a hydraulic cooling system, advanced user controls and more.

Condux Tesmec offers a full line of hydraulic pullers, tensioners, puller-tensioners and stringing blocks—cited to represent the safest and most reliable equipment in the power transmission and distribution industry. Condux Tesmec also offers one of the largest and most diverse selections of conductor blocks on the market.

A full line of productivity-enhancing conductor stringing tools and accessories is also available, including anti-twist rope, reel winders, reel stands and more.
For more information about Condux Tesmec or other products, click here to go to Utility Products' website.