Fiber optic cable blowing equipment
Fiber optic cable: General Machine Products' JetStream Cable Blowing Machine offers micro fiber and traditional backbone cable installation versatility.
Nov 10th, 2017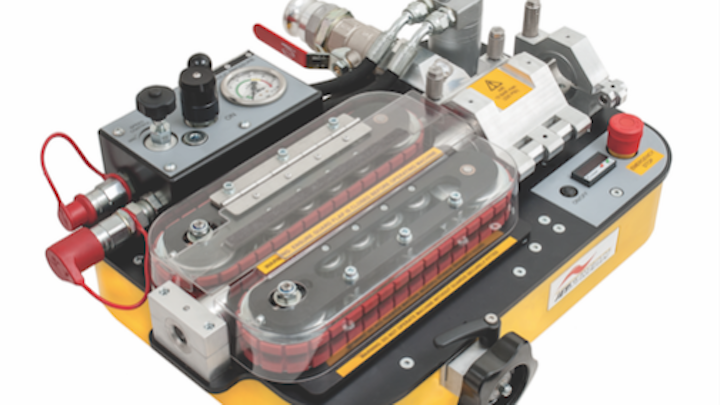 Fiber optic cable: General Machine Products (KT) LLC, a subsidiary of Klein Tools, introduces the JetStream Cable Blowing Machine (JetStream) to its line of fiber optic cable blowing equipment. From micro fiber to traditional backbone cable installation, the JetStream is adjustable to place .23 to.79 in. (6- 20 mm) cable diameters into .75 to 1.50 in. SDR (10-50 mm OD) diameter ducts. This combined with the performance and reliability of a single 32 cc hydraulic motor, makes the JetStream an excellent value.
The JetStream incorporates a double belt drive concept, powered by a supplied power pack with oil cooler. Backed by the latest in servo control technology, the JetStream provides a secure cable grip with precise torque and speed control to propel cable safely and securely through the duct in either forward or reverse direction. The pushing force can also be adjusted to suit the cable stiffness.
With easy-to-use, ergonomic controls for one-person operation, the JetStream's electronic monitoring system provides read-outs of speed and distance, plus includes the security of an emergency stop capability.
More information about the JetStream is available online at www.gmptools.com/jetstream-cable-blowing- machine/, or by contacting General Machine Products (KT), LLC at 215-357-5500; info@GMPtools.com.
About General Machine Products (KT), LLC
For more than 80 years, General Machine Products (KT), LLC, a subsidiary of Klein Tools, is recognized as a premier global supplier of a wide range of products for the telecommunications, power utility and cable television industries, and the contractors who serve them. Product applications include the placement of fiber optic, copper conductor, and coaxial cable both aerially and underground.
GMP aerial cable lashing machines, Adams® continuous duty winches and fiber optic cable pullers are accepted as the industry standard. The complete line of GMP's 1,100+ products also includes cable reels and aerial blocks, cable cutters, unique RJ plug pressing tools, fiber optic cable blowing equipment, and other specially-designed tools for the data, telecommunications, and power utility markets.
Our facilities include a 100,000-square-foot manufacturing plant located in Trevose, PA, in suburban Philadelphia, and in Rutland, England (its CBS Products, Ltd. unit). Both facilities are equipped with a full complement of technologically advanced machine tools manned by a well-trained team of craftspeople.
For more information about General Machine Products or other products, click here to go to Utility Products' website.