Utility Supplies: Small Terminal Kits Announced
BURNDY offers two new kits with 16 styles of vinyl insulated terminals and installation tooling.
Nov 6th, 2017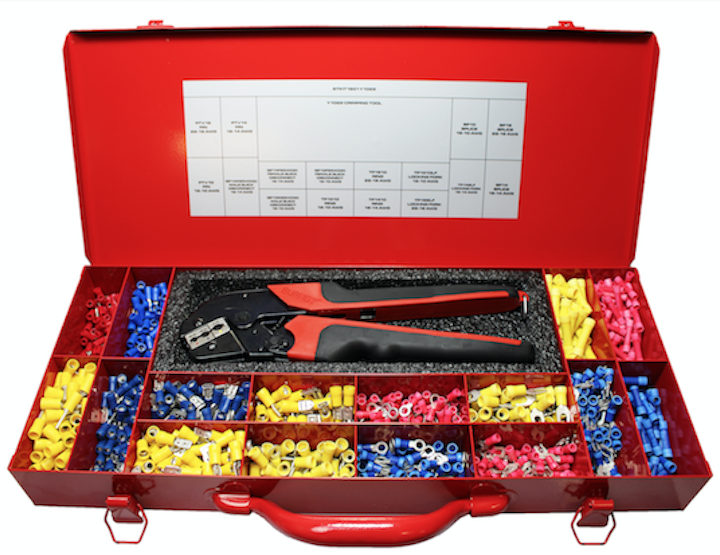 BURNDY, a leading manufacturer and provider of connector solutions to the industrial, energy, construction, telecommunication, petrochemical, data center, and transportation industries, announces the release of two new kits with small terminals and installation tool in durable dual-latch metal case.
Vinyl-insulated terminals include rings, forks, splices, disconnects and pin terminals packaged with installation tooling. The catalog number STKIT1601Y1022 includes the Y1022 Plier-type crimping tool; catalog number STKIT1602MRE1022NV includes the MRE1022NV full cycle ratchet tool.
About BURNDY
Headquartered in Manchester, New Hampshire has over 90 years of dedicated customer support in both service and product. Our customers need to look no further than BURNDY for all their connector, tool, and accessory needs. BURNDY is the only manufacturer to have the BURNDY® Engineered System of coordinating dies, connectors and tools. The three elements have been specifically designed to work together and engineered to meet stringent, accepted quality standards allowing the user complete confidence in the integrity of the connection.
For additional information, contact us at 47 East Industrial Park Drive, Manchester, New Hampshire 03109; call Customer Service at 1-800-346-4175; or visit our website at www.BURNDY.com.
Since 2009, BURNDY LLC has been a key brand under Hubbell Incorporated. More information can be found at www.Hubbell.com.
For more information about BURNDY, Hubbell, or other products, click here to go to Utility Products' website.