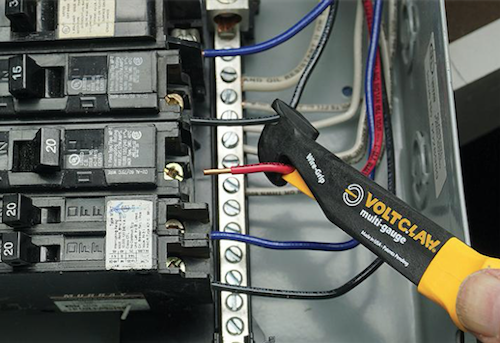 Electrical tools: Utility Pulling, pushing, grabbing and bending wires is a major part of every professional electrician's daily grind. To make it safer and easier on the widest range of wires, Nonconductive Tool Company (NTC) announced a value-packed combo offer of its original Voltclaw-12 hand tool and its new Voltclaw Multi-Gauge tool for only $24.97 - a savings of 30% versus purchasing the tools separately.
NTC broke barriers in traditional tool design when it first introduced its Voltclaw-12, the industry first non-conductive wire control tool. For the first time, electricians could grip, hook, push, bend and pull 12-14 gauge wires in outlets, switches, junction boxes and breaker panels without damaging wire insulation like metal tools can. More importantly, they could do the job safer because the all nylon Voltclaw-12 is non-conductive to 1000V. Incredibility versatile, it even lets electricians loosen and tighten twist-on wire connectors with ease. Lightweight and compact, the Voltclaw-12 perfectly fits in a tool belt.
Designed for safety on the toughest electrical jobs, the Voltclaw Multi-gauge takes its predecessor's award-winning legacy features and doubles down on the versatility. Like the Voltclaw-12, it is non-conductive to 1000V making it a far safer alternative to metal screwdrivers or wire strippers for the grabbing, pulling, pushing and bending of electrical wires, delivering peace-of-mind even when navigating in the most crowded electrical boxes. A built-in sliding wire gripper is optimized to tightly grasp on 6-16 gauge wires commonly used in commercial and residential installations. It also features two pull hooks, one on the front and one on the back, to handle both small or larger wires, along with a V-groove for pushing wires back into junction boxes. Deep finger grips ensure a safe grasp with greasy or gloved hands.
In addition, the two tools can be used at the same time for additional safety. For example, an electrician can hold the wires with the Voltclaw Multi-Gauge while removing the twist-on wire connector with the Voltclaw -12.
The Voltclaw combo pack is available at www.homedepot.com.
About Nonconductive Tool Company, LLC
Headquartered in Torrance, California, the Nonconductive Tool Company, LLC is committed to creating and manufacturing tools that help keep electricians safe and able to perform their functions to the highest level of their abilities. Its American made tools include the award-winning VoltClaw™, a groundbreaking new way for electricians to work safely around wiring. The Voltclaw was invented by the company's founder, Warren Tarbell, an electrician and contractor.
For more information about Nonconductive Tool Company or other products, click here to go to Utility Products' website.