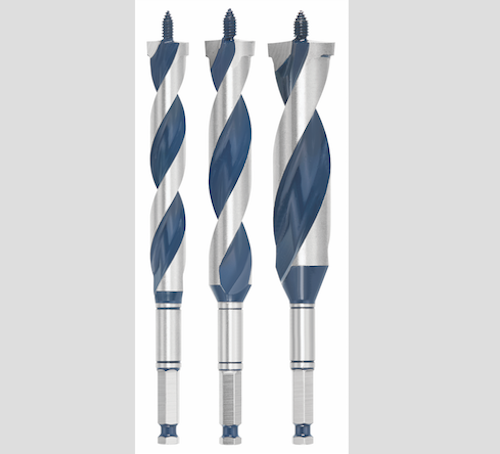 Utility supplies: Increased runtime in cordless power tools is the desire of every tool user, so a drill bit that improves the battery-runtime is an attention getter. Bosch Daredevil® High-Speed Auger Bits are the power tool industry's first to be engineered to work with cordless drills in high-speed mode. And thanks to optimized design that features decreased-pitch tips, these bits provide up to 2X more holes per battery charge.
Bosch Daredevil High-Speed Auger Bits have reinforced tips for superior performance against nail hits, which means up to 2X longer life than standard auger bits. Bit tips are designed to optimize feed rate so they can drill through wood and wood with nails in high-speed mode. A fortified spine on the bit provides added strength during aggressive drilling and material removal.
Effective bit length for Bosch Daredevil® High-Speed Auger Bits is 6-1/2 In., which allows users to employ them in between studs and in tight spaces. Bit diameters range from 1/2" to 1-3/8".
About Bosch
Having established a regional presence in 1906 in North America, the Bosch Group employs nearly 32,800 associates in more than 100 locations, as of December 31, 2016. In 2016 Bosch generated consolidated sales of $13.7 billion in the U.S., Canada and Mexico.
For more information about Bosch or other products, click here to go to Utility Products' website. Or visit our Industry News and Equipment Showcase e-newsletters.