Electrical tools: Low resistance ohmmeter
Safety equipment: Megger donates low resistance ohmmeter to Iowa Community College. Wind Energy and Turbine Technology plus Electrical Technology programs benefit from donation of DLRO200.

Nov 28th, 2017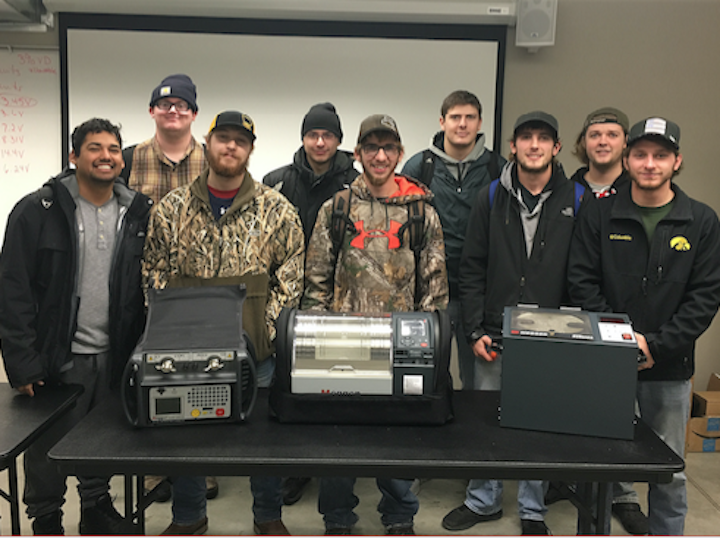 Test products: Megger recently donated a low resistance ohmmeter to students in the Wind Energy and Turbine Technology and the Electrical Technology programs at Iowa Lakes Community College. The DLRO200 is a versatile piece of equipment that provides test currents from 10 amps up to 200 amps and offers the highest quality in accuracy, reliability and safety.
David S. Danner, director of USA distribution and sales for Megger, who has been working with Iowa Lakes Community College said, "The College is at the forefront of new technology and improved electrical service, and Megger is pleased to be an integral part of the education process at Iowa Lakes. We are proud to donate the DLRO200 so that students may get hands-on experience in a practical environment."
Ideal for testing circuit breaker contacts, switch contacts, busbar joints, as well as other applications where high current is needed, this portable, low resistance ohmmeter weighs less than 33 pounds.
Dan Lutat, Director of Sustainable Energy Resources and Technology, said, "Megger's outreach with our technology programs is a fine example of putting the tools of best practices in safety to work. They are providing our students with an invaluable experience during their training."
Doug Zemler, Electrical Technology program coordinator, said, "Megger and other industry leaders are a great asset to our program. They ensure that our students are getting their hands on some of the best equipment on the market. Only with access to such equipment can we truly teach our students all the knowledge they need to become highly-qualified professionals."
ABOUT MEGGER:
Megger is one of the world's leading manufacturers and suppliers of test and measurement equipment used within the electric power, building wiring and telecommunication industries. With research, engineering and manufacturing facilities in the USA, UK, Sweden and Germany, combined with sales and technical support in most countries, Megger is uniquely placed to meet the needs of its customers worldwide.
For more information about Megger or other products, click here to go to Utility Products' website. Or visit our Industry News and Equipment Showcase e-newsletters.