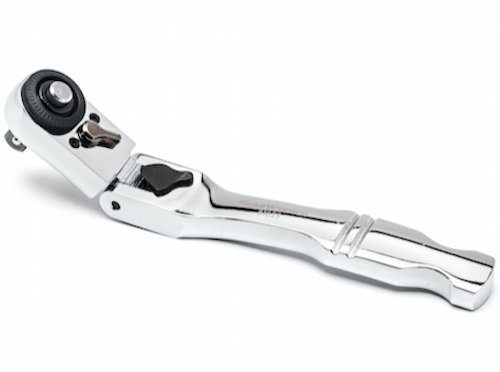 Utility supplies: GEARWRENCH®, a hand tool brand from Apex Tool Group, known for tools that deliver speed, strength, and access, has unveiled two new ¼" Drive Slim Head Ratchets. The ratchets are compact, allowing users to turn fasteners in extremely tight clearance applications.
Available in 6‑inch and 12‑inch sizes with full polish chrome handles, the Slim Head Ratchets have compact heads for excellent access in hard‑to‑reach spaces. The heads measure less than ¾" wide, compared to about an inch for standard ¼" drive ratchets. They are also just .49" thick. With a ratchet head that is less than ¾" wide, 72-tooth gearing, and a five‑degree ratchet arc, users are able to easily turn fasteners in tight areas. A flush‑mounted forward/reverse lever provides additional access capability and a quick‑release button assures fast socket change‑out. The 6‑inch Slim Head Ratchet is designed to fit comfortably in technicians' hands yet still deliver ample torque, while the 12‑inch Slim Head Ratchet enables technicians to access hard‑to‑reach screws and bolts.
For controlled angle access, ratchets have a Flex‑Head with nine locking positions plus an unlocked position. The heads convert from a 1/4" ratchet to a bit driver with the removal of the ratchet adapter. Ratchet/Bit Driver Heads and Ratchet Adapters meet or exceed ASME specifications.
"The two new ratchets introduced today will allow technicians a greater level of control while working," said James Stewart, Senior Product Manager for GEARWRENCH. "The six‑inch ratchet is a go‑to tool for working under the dash or removing smaller diameter nuts from housings in tough‑to‑reach locations. The 12‑inch ratchet allows technicians to reach past obstructions for tasks such as removing mud flaps without removing wheels."
The following GEARWRENCH Slim Head Ratchets are now available:
• Cat. No. 81025 – 1/4" Drive Slim Head Ratchet/Bit Driver, 6‑inch Length
• Cat. No. 81030 – 1/4" Drive Slim Head Ratchet/Bit Driver, 12‑inch Length
The Slim Head Ratchets are also available as components included in the new 45-Piece Slim Head Ratchet Set. The set contains:
• 6 and 12‑inch ¼" Drive Slim Head Ratchet/Bit Drivers
• 4‑inch ¼" Drive Extension
• ¼" Drive Sockets (4, 5, 6, 7, 8, 9, 10, 11, 12, and 13mm)
• ¼" Drive Ratchet Adapters (x2)
• 30‑Piece Screwdriver Bit Set with Hinged‑lid Storage Box, containing:
o Phillips® Bits: #1 (x2), #2 (x2), and #3 (x2)
o Slotted Bits: 4, 5, and 6mm, 5/32", 7/32", and 1/4"
o Hex Bits: 3, 4, 5 (x2), and 6mm, 1/8", 5/32", 3/16", 7/32", and 1/4"
o Torx Bits: T10, T15, T20 (x2), T25, T27, T30, and T40.
The GEARWRENCH 45-Piece Slim Head Ratchet Set is also available now:
• Cat. No. 81032 – 45‑Piece Slim Head Ratchet Set
About GEARWRENCH®
GEARWRENCH is a premier hand tool brand from Apex Tool Group, one of the largest hand tool manufacturers in the world. Since the launch of the original patented five-degree ratcheting wrench, the GEARWRENCH brand has continuously led the industry with breakthroughs in pass-thru ratchets, sockets, screw/nut drivers, pliers, and specialty tools.
About Apex Tool Group
Apex Tool Group, LLC, based in Sparks, MD, is one of the largest worldwide producers of industrial hand and power tools, tool storage, drill chucks, chain, and electronic soldering products. Apex serves a multitude of global markets, including automotive, aerospace, electronics, energy, hardware, industrial, and consumer retail.
For more information about GEARWRENCH,Apex Tool Group, or other products, click here to go to Utility Products' website.