Electrical tools: High torque impact wrenches are powerful
Utility supplies: Milwaukee Tool introduces M18 FUEL High Torque Impact Wrenches w/One-Key: the industry's most powerful impact wrench, now with the most control.

Nov 15th, 2017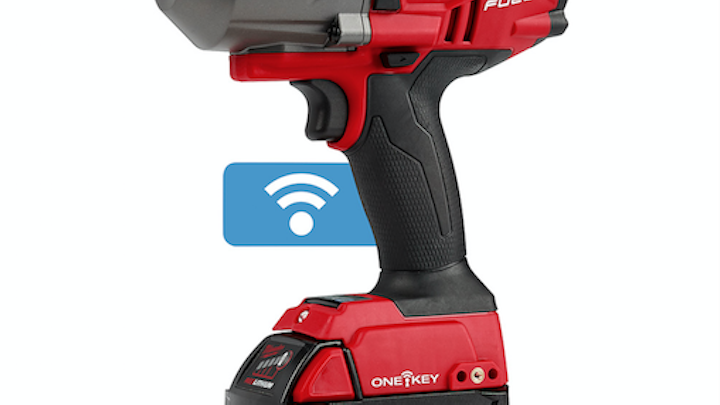 Electrical tools: Milwaukee Tool will set a new standard for cordless impact wrench capability by taking the performance of the new M18 FUEL™ High Torque Impact Wrenches to the next level with the addition of ONE-KEY™. Delivering up to 1,400 ft-lbs of Nut-Busting Torque, the M18 FUEL™ High Torque Impact Wrenches are cited to be the industry's most powerful high torque impact wrenches, as well as the most compact. Capable of removing fasteners over 2X faster, the new tools outperform leading pneumatic, corded and cordless solutions today. Through the features that One-Key™ provides, users can now take control over that performance and deliver repeatable torque results resulting in reduced damage to materials and reduced time and cost savings associated with rework.
"When we launched the next generation of M18 FUEL™ High Torque Impact Wrenches earlier this year, we not only delivered the most powerful high torque impact wrenches on the market, but also introduced users to a solution that could finally eliminate hoses and cords once and for all. Now we're disrupting the industry once again by allowing users to completely customize all of this power through the addition of One-Key™," said Eric Rusch, Senior Product Manager for Milwaukee Tool. "As advancements in technology have grown, so too has the need for increased control over the performance of users' impact wrenches. Not all users require the maximum torque at all times and desire to have more control over the output of their tool. With the M18 FUEL™ w/ One-Key™ Impact Wrenches, we're giving users complete control of their tool's output with application-specific modes and customizable torque settings that will allow them to perform the job faster and more productively. These benefits provide an experience like users have never had before – the first cordless impact wrenches capable of the most repeatable torque performance out of any impact wrench available today."
Through One-Key™ users will be able to customize, track, and manage the new impact wrenches. One-Key™ Tool Customization gives users access to a range of predetermined setups like custom drive control, lug nut mode, and concrete anchor mode:
Custom Drive Control
• Adjust the RPMs to deliver more control for delicate fastening applications. Adjust the torque and RPMs to achieve repeatable torque results from repetitive fastening applications.
Lug Nut Mode
• Eliminate the need for torque sticks by choosing between two settings that will deliver repeatable output on lug nut applications, and check final torque with a calibrated torque wrench.
Concrete Anchor Mode
• Select this mode so the tool will automatically shut down once the anchor is seated to reduce broken anchors and stripped material.
Users can create their own profile and, with the touch of a button on the tool, easily go back and forth between saved profiles so each application is done with the most accurate and productive settings. Once the tool is set, a phone is no longer needed. Users can also access available setups based on common applications and materials.
The One-Key™ Integrated Tool Tracking functionality will allow users to identify where and when their impact wrench was last seen. Records and locations will update when any device with the One-Key™ app comes within 100ft of the impact, allowing the user to quickly pinpoint missing tools. Integrated Tool Security will provide an extra layer of protection to prevent theft and tampering. With Simplified Tool and Equipment Management, users will also have a central place to take inventory of their impact wrench and all other tools and equipment, and keep detailed records of all inventory to easily build a budget and manage spend.
Milwaukee® is committed to improving productivity by providing performance-driven and trade-focused solutions so users can perform an entire day's work on one battery system. This new tool is fully compatible with the entire M18™ line, now offering more than 150 power tool products.
For more information about Milwaukee Tool or other products, click here to go to Utility Products' website.