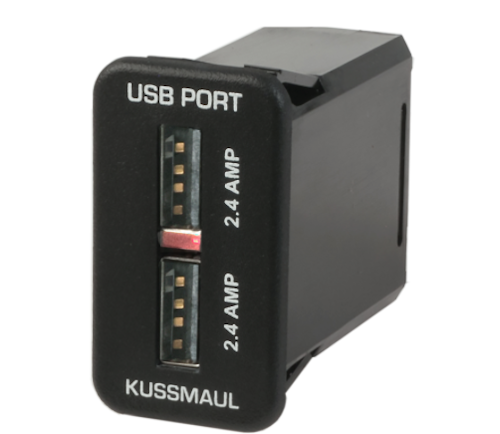 Energy management: Kussmaul Electronics' new dual USB Switch 5.0, part number 091-219-5, provides a massive output current of 2.4 Amps for each port. This powerhouse will enable the quick charging of two tablets or cell phones simultaneously.

The new 5.0 also features a wide input voltage range from 10-30 VDC.

Designed to be installed quickly and easily on any truck, the 5.0 has reverse polarity protection.

Currently available in SVR switch panels. Kussmaul also manufactures a variety of indicators and dashmount ready products for your vehicle.

Each unit carries a 3-year warranty.
USB Dual Port, Model #: 091-219-5
• Dual USB Charging Ports
• Quick and easy way to recharge electronic devices in a vehicle
• 4.8 Amps max output allows charging of both a smart phone and a tablet at the same time or two tablets at the same time
• Built-In LED Indicator indicates device is powered
• Designed for easy installation in SVR type vehicle switch panels
• Reverse polarity protected
• Can be connected to 12V or 24V switched ignition or directly to battery
• 3-year warranty
The 091-219-5 is a 4.8 Amp Dual USB Charging Port designed to fit into a standard
1.45" x 0.83" panel cut out. Connect the (+) terminal to either +12 or +24 volts continuous
(battery positive) or switched 12/24 volt power (ignition). Connect the (-) terminal directly to
chassis ground or battery negative.
For more information about Kussmaul Electronics or other products, click here to go to Utility Products' website.