Utility supplies: Pole cutter tools introduced
Utility tools: BURNDY announces an industry exclusive, new PATRIOT IN-LINE PATMDCUT98 Series of pole cutter tools.
Sep 29th, 2017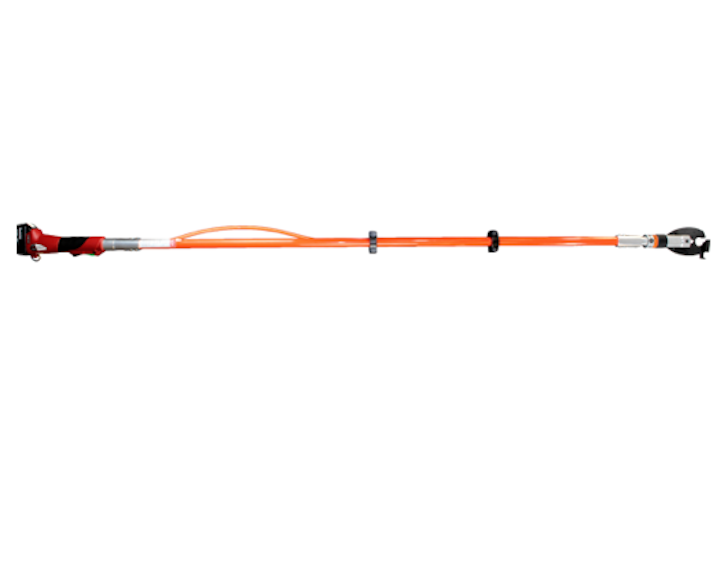 Utility supplies: BURNDY®, a leading manufacturer and provider of compression connector solutions to the industrial, energy, construction, telecommunications, petrochemical, data center, and transportation industries, announces the newest addition to the BURNDY® PATRIOT® IN-LINE® battery actuated tooling line — the industry exclusive PATMDCUT98 Series of Pole Cutter Tools.
The new PATMDCUT98 Series BURNDY® PATRIOT® IN-LINE® Pole Cutter has been designed with a 98" overall length offering users both increased flashover protection and extended reach for "live-line, hot-sticking" applications working from inside the aerial bucket or from solid ground. The new design also incorporates a fixed, non-interchangeable head for increased rigidity and user control. The PATMDCUT98LLIF builds upon the BURNDY PATMD IN-LINE family of tools and is powered by Makita Li-ion batteries for long-lasting power.
Designed for safety, convenience and function, the PATMDCUT98LLIF battery operated tool performs cuts in less than 6 seconds, minimizing exertion and time required when using similar manual or ratchet type models. Bring the control to your fingertips while safely working with hard to reach, energized overhead or underground lines.
The rocker trigger design allows controlled actuation of the tool when desired and features a safety lock feature to prevent accidental operation of the tool while not in use. Balanced weight distribution allows for a better ergonomic experience compared with similar tools on the market where the majority of the weight is at the top of the pole.
The PATMDCUT98 Series will accept multi-Ah Makita batteries ranging from 2.0Ah through 5.0Ah. It is offered with 3.0Ah batteries only.
About BURNDY
Headquartered in Manchester, New Hampshire has over 90 years of dedicated customer support in both service and product. Our customers need to look no further than BURNDY for all their connector, tool, and accessory needs. BURNDY is the only manufacturer to have the BURNDY® Engineered System of coordinating dies, connectors and tools. The three elements have been specifically designed to work together and engineered to meet stringent, accepted quality standards allowing the user complete confidence in the integrity of the connection.
For more information about BURNDY, Hubbell or other products, click here to go to Utility Products' website. Or visit our Industry News and Equipment Showcase e-newsletters.