Utility tools: Mobile communication tower
Utility supplies: Larson Electronics releases a new mobile communication tower. This "cell on wheels" provides operators with a quick way to deploy equipment for their mobile communications operations.
Jun 19th, 2017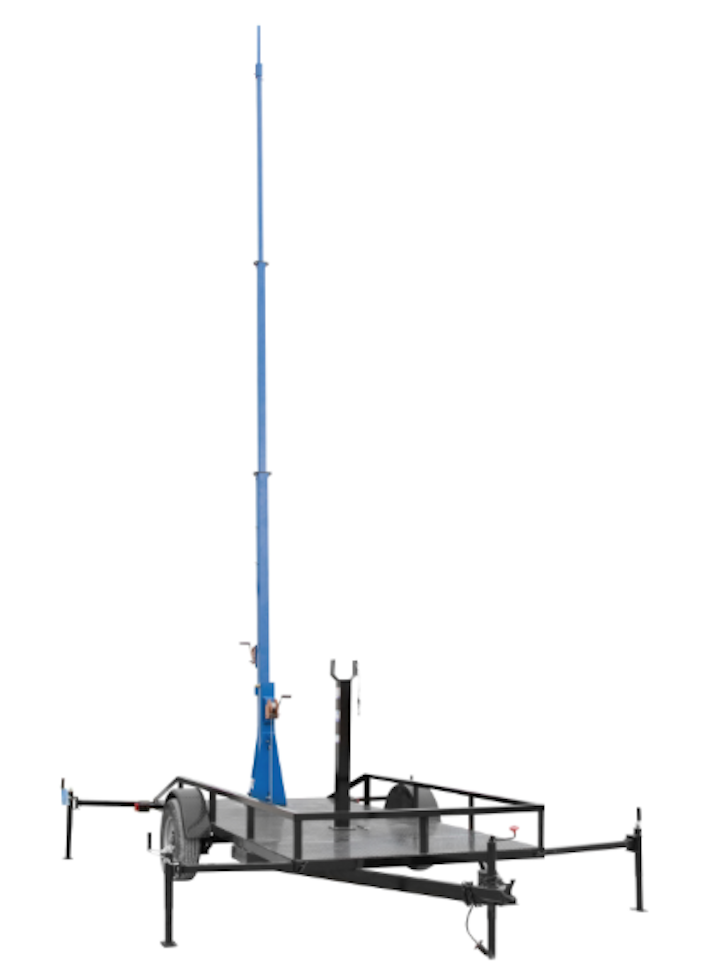 Utility tools: Larson Electronics LLC has released a new mobile communication tower to be added to its expanding catalog of products. This "cell on wheels" provides operators with a quick way to deploy equipment for their mobile communications operations.
This mobile communications tower features a heavy-duty mast that can be elevated to 30', and collapsed to 13.5' for applications where a smaller footprint is required. An antenna mount pole is included at the top of this tower. The entire assembly is mounted onto a 14' single axle trailer, allowing operators to fold over and transport this tower from location to location. Operators may use the trailer to store communication devices and other supporting equipment, such as cables, electronics, amplifiers, monitoring systems, cameras, hand-held tools and more.
This portable communication tower assembly weighs approximately 1,200 lbs and can easily support/lift 150-lb fixtures and other types of equipment. The entire tower assembly is shipped via common freight carrier or flatbed. Larson Electronics can customize these units according to customer requirements with longer sections and larger mounting plates. This family of telescoping towers feature a proprietary mast guidance system, which helps to provide increased stability during operation. Four 1,000-lb hand crank leveling jacks area used for leveling. The jacks can be operated by a hand crank or by an attachment for power drills. When lowered to 13.5', the mast can withstand winds of up to 125 mph.
"When working in remote locations, the need for consistent communication is only heightened," said Rob Bresnahan, CEO of Larson Electronics LLC." This mobile communication tower works as a "cell on wheels" in that it gives workers a reliable way to stay in contact with the outside world, ensuring safety and productivity."
About Larson Electronics LLC: Larson Electronics LLC is a manufacturer of industrial lighting equipment and accessories. The company offers an extensive catalog of industry-grade lighting and power distribution products for the following sectors: manufacturing, construction, food processing, oil and gas, military, marine and automobile. Customers can benefit from the company's hands-on, customized approach to lighting solutions. Larson Electronics provides expedited service for quotes, customer support and shipments.
For more information about Larson Electronics or other products, click here to go to Utility Products' website. Or visit our Industry News and Equipment Showcase e-newsletters.