Power distribution systems are portable
Power distribution: Larson Electronics' portable power distribution systems are one of the best pieces of equipment a remote or temporary location can invest in.
Dec 15th, 2017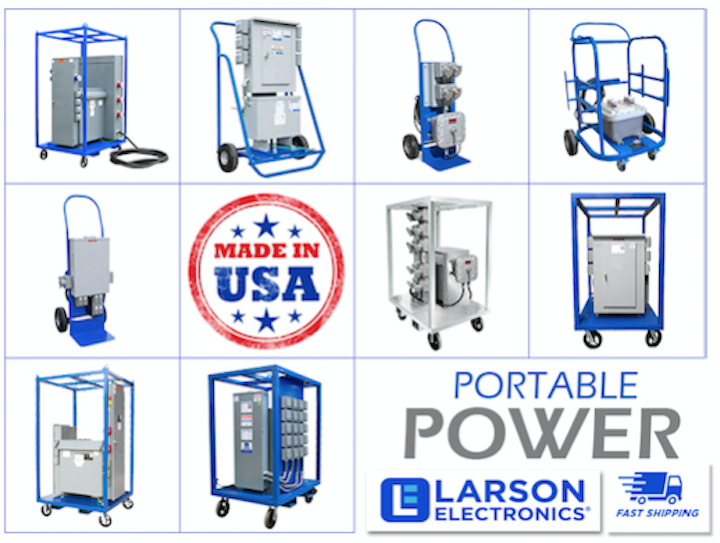 Power distribution: Larson Electronics' power distribution substations and panels enable operators to power a variety of devices from multiple receptacles. The ability to convert power from a generator into voltages and outlets, makes these transformers ideal for work trailers, events, maintenance jobs and other temporary work.
The addition of high portability increases the value of these systems greatly.

Here's a peek into some of our transformers' portability features:
• Upright dolly carts that easily move around work area, by simply leaning them back and rolling them. Simply hook them up and they're ready to go.
• Cube frames with smooth-rolling casters, that work similar to dolly carts for larger units.
• Skid pockets, which allow forklifts and skid loaders to pick up the unit and move it wherever needed.
• Pick eyes located at the top of the units for cranes, jibs, and other hoisting equipment to easily pick up the equipment- a great feature for locations with no room to roll the unit around.

Having the ultimate flexibility to move these power distributors around the job site with little hassle makes daily operation more efficient.

We have several pre-configured substations, but can build specialized units to customer specifications.
For more information about Larson Electronics or other products, click here to go to Utility Products' website. Or visit our Industry News and Equipment Showcase e-newsletters.