Safety products: Flange securement clip secures cable tray to PV module frames
Utility supplies: BURNDY announces the release of the new WILEY ACC-FWT flange securement clip, used to secure a cable tray to PV module frames.
Dec 13th, 2017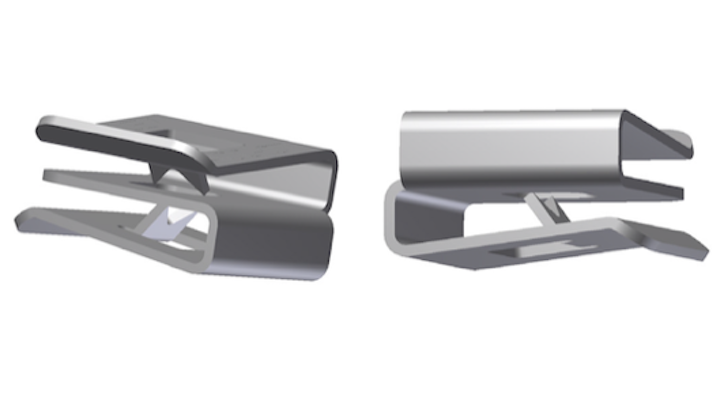 Safety products: BURNDY®, a leading manufacturer and provider of wire management solutions to the Solar PV industry, announces the addition of the new ACC-FWT flange securement clip to the WILEY line.
The ACC-FWT flange securement clips are used to secure a cable tray to PV module frames. The ACC-FWT is made of corrosion resistant 304 stainless steel, which makes it a durable, long lasting and reliable solution for all environments. The ACC-FWT is easy to install and can be installed onto flanges of various thicknesses. ACC-FWT flange securement clips are the perfect solution for keeping the PV installation neat, clean, and free from ground faults.
• Innovative design that allows for quick and easy installations
• High quality, long-lasting, labor saving securement solution
• Corrosion resistant 304 stainless steel provides outstanding durability and performance in all environments
• Installs onto the module frame and cable tray flange
• Clips accommodate:
- 12-28 ga galvanized steel or aluminum cable tray
- Module frames that range from 1.3mm to 3mm in thickness
• Snake-tongue tabs securely anchor clips to module frames and cable tray
• Recommended for outdoor use
• Custom designs are available upon request
• Application is not limited to Solar PV applications, can be used when securing or connecting any flat sheet metals in a similar orientation.
Please visit Wiley website:
For more information on other Wiley Products: http://www.we-llc.com.
For System Compatibility information, visit: http://www.we-llc.com/references/technical-references.
For Installation manuals, visit: http://www.we-llc.com/references/installation-manuals.
About BURNDY®
Headquartered in Manchester, New Hampshire, BURNDY® has over 90 years of dedicated customer support in both service and product. Our customers need to look no further than BURNDY® for all their connector, tool, and accessory needs. BURNDY® is the only manufacturer to have the BURNDY® Engineered System of coordinating dies, connectors and tools. The three elements have been specifically designed to work together and engineered to meet stringent, accepted quality standards allowing the user complete confidence in the integrity of the connection.
For additional information, contact us at 47 East Industrial Park Drive, Manchester, New Hampshire 03109; call Customer Service at 1-800- 346-4175; or visit our website at www.BURNDY.com.
Since 2009, BURNDY® LLC has been a key brand under Hubbell Incorporated. More information can be found at www.Hubbell.com.
For more information about BURNDY, Hubbell, or other products, click here to go to Utility Products' website. Or visit our Industry News and Equipment Showcase e-newsletters.