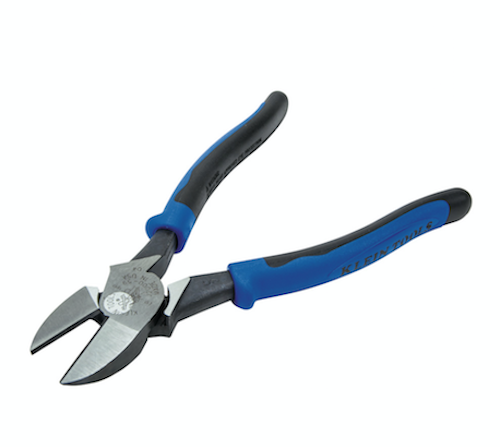 Utility supplies: Klein Tools introduces the 9" Journeyman Heavy-Duty Diagonal-Cutting Pliers with extra-long cutting blades. The thicker forging ensures increased durability while the extra-long cutting blades provide 57 percent more cutting surface* for greater cutting ability and more efficiency on the job.
9'' Journeyman Heavy-Duty Diagonal-Cutting Pliers (Cat. No. J2000-59)
• High-leverage design has 46 percent more cutting power*
• Induction-hardened cutting knives for longer life
• Heavy-duty cutting knives cut ACSR, screws, nails and most
• hardened wire
• Angled blade design for easier access to cut screws and bolts
• Hot-riveted joint for smooth action and no handle wobble
• Exclusive handle tempering absorbs the "snap" when cutting wire
• Dual-material JourneymanTM handles provide better grip and
• added comfort
"At Klein Tools, we are dedicated to innovation and quality, which means continually re-imagining our existing products," says Austin Minor, associate product manager at Klein Tools. "We listened to our customers and have designed these all-new Heavy-Duty Diagonal-Cutting Pliers to last longer and perform more cuts over time than standard diagonal-cutters."
*Percentages based on comparison with Klein Tools' 8" diagonal-cutting pliers.
About Klein Tools
Since 1857 Klein Tools, a family-owned and operated company, has been designing, developing and manufacturing premium-quality, professional-grade hand tools. The majority of Klein tools are manufactured in plants throughout the United States and are the No. 1 choice among professional electricians and other tradespeople.
For more information about Klein Tools or other products, click here to go to Utility Products' website. Or visit our Industry News and Equipment Showcase e-newsletters.