Work light: Light tower with generator illuminates large areas
Safety lighting: Larson Electronics' WAL-ML-2X400LTL-LED-3G Mini Light Tower features 3000VA generator - two 480 watt LED lamps - 120k lumens - 10 hour runtime.
Jul 20th, 2017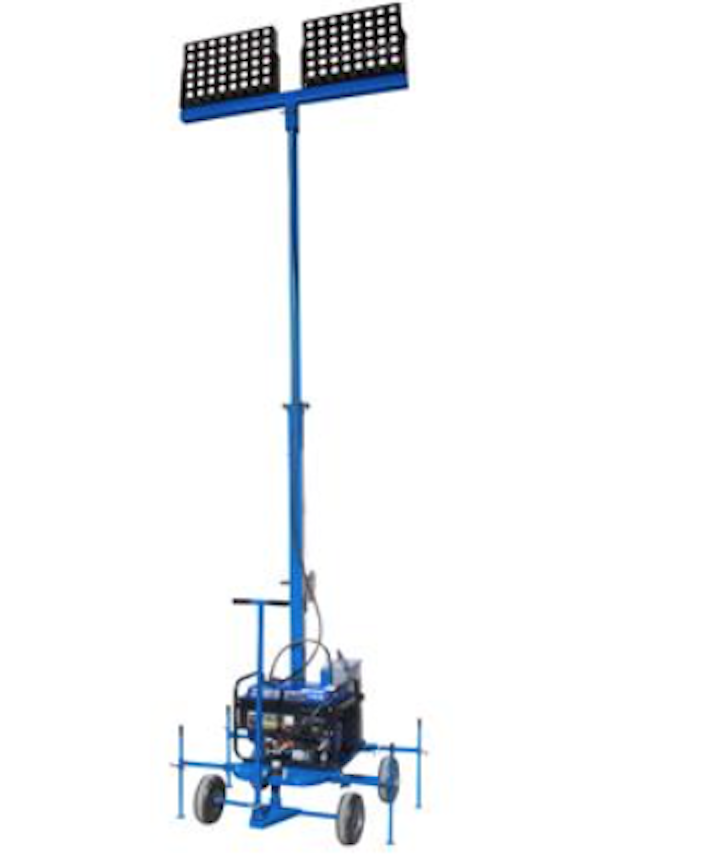 Work light: Larson Electronics' WAL-ML-2X400LTL-LED-3G Mini Light Tower with 3000VA Generator is an ideal solution for operators who need a fully portable yet easy to operate light system capable of illuminating large areas. Adjustable from 7 to 12 feet in height and equipped with a 3000VA generator and two 480 watt LED lamps, this unit will provide over 120,000 lumens of illumination for up to 10 hours on a single tank of fuel.
The WAL-ML-2X400LTL-LED-3G Mini light tower is a portable lighting system designed for stand-alone operation and high mobility while providing enough output to illuminate approximately 2 acres of area effectively. Equipped with a heavy duty adjustable height tower, 3000 KVA generator, and two 480-watt high output LED lamps, this mini tower provides operators with an easily deployed lighting system that can provide large scale illumination for up to 10 hours on a single tank of gas.
This portable LED lighting system is comprised of two adjustable LED light heads mounted atop a telescoping mini light tower mounted to a wheeled cart base. This adjustable and collapsible tower can be extended to twelve feet, collapsed to seven feet, and includes four wheels allow the operator simply roll the entire assembly to a new location when fully deployed. The LED light fixture assembly can be removed by releasing the hand knob and sliding the light and mounting bracket off of the center support, aiding in deployment, storage and transport. The lamp can be easily adjusted vertically and locked into position.
Forty-eight Cree® high output LEDs producing 1250 lumens each are arranged in rows and paired with PMMA high purity optics to produce a well focused 24° wide spot beam that is ideal for providing far reaching concentrated illumination while still covering a substantial amount of area. We also offer optional optics with 10° spot, 38° narrow flood, 60° flood, and 90° wide flood beam spreads. The spot beams are tightly focused and are designed for high elevation mounting to achieve distance, making spot versions ideal for high mast and spots lighting. The flood beams are designed to provide more light over a larger area nearer the fixture, making flood versions ideal for use as dedicated work and area lights. This light is designed for heavy duty use in demanding conditions including emergency services, mining, construction, marine, and industrial operations where durability and reliability is critical.
*PLEASE NOTE: ANY FREE SHIPPING OFFERS DO NOT APPLY TO LIGHT MASTS OR LIGHT TOWERS*
For more information about Larson Electronics or other products, click here to go to Utility Products' website. Or visit our Industry News and Equipment Showcase e-newsletters.