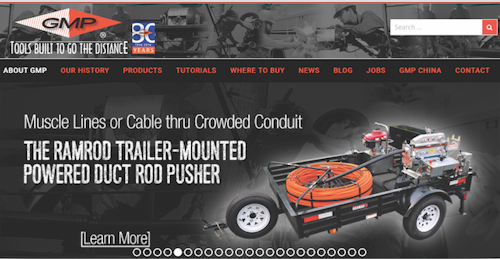 Utility tools: General Machine Products (KT), LLC, a subsidiary of Klein Tools, is pleased to introduce the launch of its newly redesigned website. General Machine Products (GMP) provides the development, prototyping and manufacturing of aerial cable construction equipment & tools, copper & fiber cable placing and blowing equipment, manhole & duct tools, installer's hand tools, warning signs, tents & tarps, winches, motor vehicle accessories, specialty hardware and related supplies.
Offering fast and easy-to-find access to extensive product information and features, this newly redesigned website offers insight into GMP's innovative cable placement products for the telecommunications, power utility and cable television industries. In addition to product information, the website also offers comprehensive training tutorials, company history background, company news and case history articles, where-to-buy options, blog access to industry-related topics and more. Dedicated product documentation is also available for easy download directly from the website.
Located at the same address (http://www.gmptools.com), the new website debuted on Tuesday, June 6, 2017. Adaptable and responsive on all desktop and laptop computers and mobile devices, the new website features a contemporary uncluttered design, improved functionality and enhanced content. It reflects GMP's mission to maintain its manufacturing leadership position, and its ability to anticipate and meet the changing needs of work crews in the field who rely on the ruggedness, dependability, practicality, and safety of GMP equipment.
"We are very excited about our new website. It serves as a resource for customers, prospective customers, sales partners and media to better understand the value that GMP delivers," said William N, Pfundt, Executive Director at GMP. "It is our hope that this new website will provide our visitors with a very informative experience, allowing them to make better product selection decisions."
GMP's new website will be updated on a regular basis, providing timely product introductions, fresh company news and industry insights on an ongoing basis.
About General Machine Products (KT), LLC
For more than 80 years, General Machine Products (KT), LLC, a subsidiary of Klein Tools, is recognized as a premier global supplier of a wide range of products for the telecommunications, power utility and cable television industries, and the contractors who serve them. Product applications include the placement of fiber optic, copper conductor, and coaxial cable both aerially and underground.
GMP aerial cable lashing machines, Adams® continuous duty winches and fiber optic cable pullers are accepted as the industry standard. The complete line of GMP's 1,100+ products also includes cable reels and aerial blocks, cable cutters, unique RJ plug pressing tools, fiber optic cable blowing equipment, and other specially-designed tools for the data, telecommunications, and power utility markets.
Our facilities include a 100,000-square-foot manufacturing plant located in Trevose, PA, in suburban Philadelphia, and in Rutland, England (its CBS Products, Ltd. unit). Both facilities are equipped with a full complement of technologically advanced machine tools manned by a well-trained team of craftspeople.
For more information about General Machine Products or other products, click here to go to Utility Products' website. Or visit our Industry News and Equipment Showcase e-newsletters.