Utility supplies: Mechanical pin adaptors introduced
BURNDY announces the KAP / KAPO line of innovative mechanical pin adaptors.
Mar 14th, 2018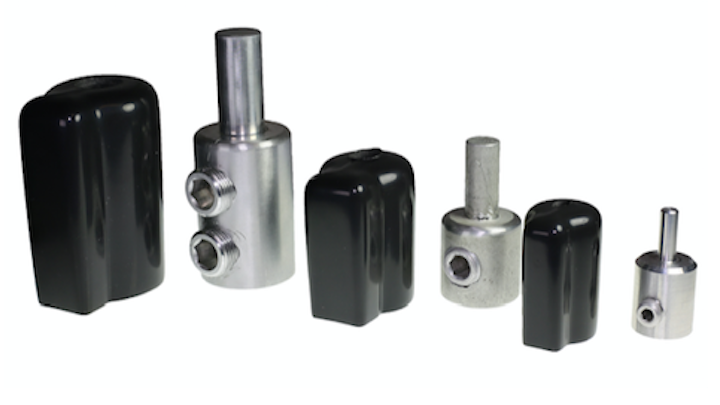 Utility supplies: BURNDY®, a leading manufacturer and provider of compression connector solutions to the industrial, energy, construction, telecommunications, petrochemical, data center, and transportation industries, introduces a family of mechanical pin adaptors. BURNDY is the first to market this innovative product which provides customers with an alternative means of terminating conductor into mechanical connectors typically found in switch gear, breakers, and other electrical equipment. The KAP / KAPO type connectors are a supplement to the AYP / AYPO aluminum compression adaptors.
Consisting of three range taking sizes that accommodate a wire range from #6 to 750 kcmil, each size is offered in a center pin and off-centered pin design. Off-centered pins can be rotated to prevent interference when installing conductors side-by-side in limited space applications. Insulated covers are provided with each connector to prevent contact between it and uninsulated live parts of opposite polarity or grounded metal. The KAP / KAPO type mechanical pin adapters are UL Listed for use with Flex (fine stranded) conductor.
About BURNDY®
Headquartered in Manchester, New Hampshire, BURNDY® has over 90 years of dedicated customer support in both service and product. Our customers need to look no further than BURNDY® for all their connector, tool, and accessory needs. BURNDY® is the only manufacturer to have the BURNDY® Engineered System of coordinating dies, connectors and tools. The three elements have been specifically designed to work together and engineered to meet stringent, accepted quality standards allowing the user complete confidence in the integrity of the connection.
For additional information, contact us at 47 East Industrial Park Drive, Manchester, New Hampshire 03109; call Customer Service at 1-800- 346-4175; or visit our website at www.BURNDY.com.
Since 2009, BURNDY® LLC has been a key brand under Hubbell Incorporated. More information can be found at www.Hubbell.com.
Customer Service 1-800-346-4175 | International 603-647-5299 | Canada 1-800-387-6487 | www.burndy.com
For more information about BURNDY, Hubbell, or other products, click here to go to Utility Products' website.